Chinese Ship Comes 'Within 45 Yards' of US Destroyer in South China Sea
The US ship was forced to take evasive manoeuvres to avoid a collision

Independent UK, 2 Oct 2018.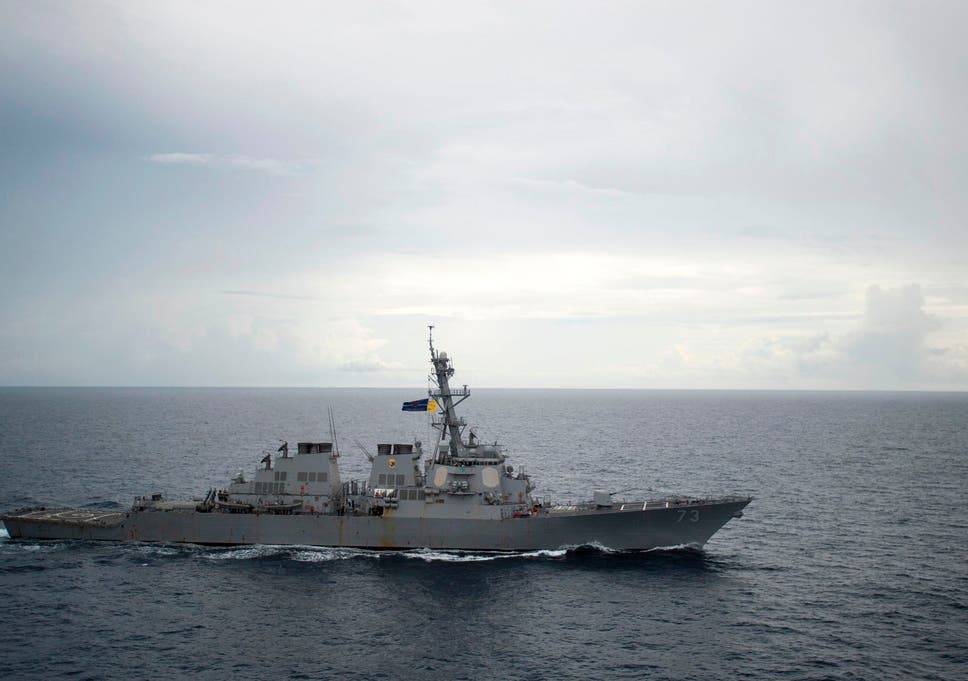 The USS Decatur was on a routine mission in the South China Sea when it came close to a Chinese warship ( AFP/Getty Images )
An American ship came dangerously close to a Chinese warship during a recent exercise, forcing the US destroyer to perform evasive manoeuvres to avoid a collision.
The incident has been called an "unsafe" encounter between the two ships by Pentagon officials, and at one point the Chinese ship was reportedly around 45 yards from the American vessel.
"A [Chinese] Luyang destroyer approached USS
Decatur
in an unsafe and unprofessional manoeuvre in the vicinity of Gaven Reef in the South China Sea," Captain Charles Brown, a spokesman for US Pacific Fleet, said in a statement.
Mr Brown said that the Chinese ship "conducted a series of increasingly aggressive manoeuvres accompanied by warnings for the Decatur to depart the area".
The US warship was in waters near the disputed Spratly Islands in the South China Sea. The crew was conducting a freedom of navigation routine, which is a regular mission and intended to ensure open trade routes.
The close encounter comes as the US and China have seen an increasingly tense relationship, with the two super powers disagreeing over trade policy, and on issues related to election meddling.
Just recently, officials with the Department of Defence told CNN that Defence Secretary James Mattis has cancelled a planned trip to Beijing later in October.
The Pentagon has not publicly confirmed that Mr Mattis had cancelled his trip to the Chinese capital, where he was expected to meet with top officials in the Chinese government.
President Donald Trump recently acknowledged the souring relations between his government and that of the Chinese, suggesting that the Chinese government has been working to meddle in the upcoming midterm elections in favour of Democrats.
"He may not be a friend of mine anymore. But I think he probably respects me," Mr Trump said of his Chinese counterpart, Xi Jinping, last week.
The Trump administration has imposed new trade tariffs on Chinese goods, with a recent round of tariffs being placed on 10 per cent of $200bn worth of Chinese goods in late September.
China has, meanwhile, imposed tariffs of their own – between 5 and 10 per cent – on $60 billion worth of American goods.