Alert: Eyes on Damascus
I want to draw your attention to Syria. While the media keeps us distracted with one after the other scandal in Hollywood and Washington, a war against and in Syria has been in the works for a long time and is about to materialize. Syria is a powder keg ready to explode.
Let's rewind a bit and look at what happened already in 2016 under the radar of most media.
A large shipment of military equipment was shipped from the US towards Bremerhaven in northern Germany. The vehicles were painted in desert camouflage and were said to be for war games in eastern Europe and that they would be painted in the right colors on arrival. A quite nonsensical explanation.
The vehicles were indeed transported by train to the eastern European border, but even all the way down to Bulgaria. There they were loaded into two ships, one of which sailed to southern Jordan from where they were brought to the southern border of Syria; and one was sailed to Beirut Lebanon from where they were brought to the Western border of Syria.
Mind you that this has all started in 2016 under the Obama administration and has continued under Trump. The military equipment reached its destination in March / April of this year 2017 and sits there waiting to be used.
The US is not planning to leave and is hell-bend on having a war. Last week they announced that they would even go to war in Syria without consent of the UN. And without having the incentive of the threat of ISIS this is the next step.
And just a few days ago a massive convoy of Turkish military rolled into eastern Syria.
Iran has now already 13 bases in Syria and tens of thousands of troops. Foreign minister of Russia, Sergei Lavrov, has just stated that this Iranian presence is legitimate.
At the same time Israel is not pleased with Iranian presence just over 30 miles from their border. They have already fired on several targets inside Syria.
And finally, the events in Saudi Arabia are connected with Israel, Lebanon and the buildup of alliances for the war that is in the making.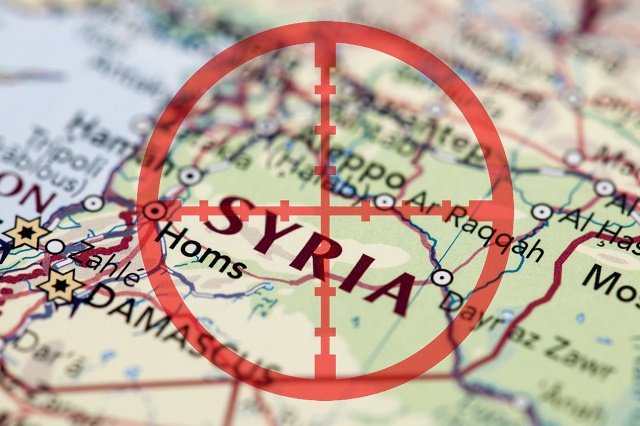 Why is all of this so relevant? Because this is prophecy unfolding, just look at what scripture tells us:
Concerning Damascus. Hamath [Homs] is confounded, and Arpad [Aleppo]: for they have heard evil tidings: they are fainthearted; there is sorrow on the sea; it cannot be quiet.
Damascus is waxed feeble, and turneth herself to flee [refugees], and fear hath seized on her: anguish and sorrows have taken her, as a woman in travail.
How is the city of praise not left, the city of my joy!
Therefore her young men shall fall in her streets, and all the men of war shall be cut off in that day, saith the LORD of hosts.
And I will kindle a fire in the wall of Damascus, and it shall consume the palaces of Benhadad [the president].
Jeremiah 49:23-27

How true has this become the past few years. But it is not over yet:
Thus saith the LORD; For three transgressions of Damascus [1948, 1967, 1973], and for four, I will not turn away the punishment thereof; because they have threshed Gilead with threshing instruments of iron:
But I will send a fire into the house of Hazael, which shall devour the palaces of Benhadad [the president].
I will break also the bar of Damascus, and cut off the inhabitant from the plain of Aven, and him that holdeth the sceptre from the house of Eden: and the people of Syria shall go into captivity unto Kir, saith the LORD.
Amos 1:3-5

The climax of this pending conflict will be the total destruction of the city of Damascus. It will happen overnight:
The burden of Damascus. Behold, Damascus is taken away from being a city, and it shall be a ruinous heap.And behold at eveningtide trouble; and before the morning he is not. This is the portion of them that spoil us, and the lot of them that rob us.
Isaiah 17:1,14
Only a weapon of mass destruction can do that.
And we can clearly see that the main players of that other future war, known as the 'Gog Magog war' – as described in Ezekiel 38 and 39 – are taking their positions: Russia, Iran, Turkey.
Keep your eyes on Syria, it will come to pass! If you know the Lord Jesus, there is no fear, our redemption draws near. __________________