Hurricane Irma: US Disaster Relief Fund 'To Run Out of Cash by Friday' as Latest Storm Closes in
Resources of Federal Emergency Management Agency (FEMA) already badly depleted after Harvey, placing renewed pressure on Congress to find extra capital as new disaster beckons
The Independent UK 6 Sept 2017


Flooding and debris are seen after Hurricane Harvey hit Rockport, Texas Alex Scott/Bloomberg
....
With Texas still reeling from Hurricane Harvey and another storm barreling toward Florida, the Federal Emergency Management Agency (FEMA) is expected to run out of money by Friday, according to a Senate aide, putting pressure on Congress to provide more funding this week.
As of 10am on Tuesday morning, FEMA's Disaster Relief Fund, which pays for the agency's disaster response and recovery activity, had just $1.01 billion on hand. And of that, just $541 million was "immediately available" for response and recovery efforts related to Hurricane Harvey, according to a spokeswoman for FEMA who asked not to be identified by name.
The $1.01 billion in the fund on Tuesday morning is less than half of the $2.14 billion that was there at 9am last Thursday morning - a spend rate of $9.3 million every hour, or about $155,000 a minute
The agency would be out of funds just as Irma, a category 5 hurricane, might start thrashing the coast of Florida.
"If it's down to $1 billion or less, then I would say there's a great concern," said Elizabeth Zimmerman, who until January was FEMA's associate administrator for the office of response and recovery. "Congress needs to take action very quickly."
President Donald Trump's administration has asked Congress for an injection of almost $8 billion in additional funds.
The House is voting Wednesday on funding for Harvey. The Senate, which is expected to act this week as well, is considering whether to add a suspension of the federal debt limit to the measure. The legislation would then go back to the House.
In the meantime, FEMA has restricted spending to what it calls "immediate needs" — what it calls "lifesaving, life-sustaining response efforts" for Harvey and Irma. Zimmerman said the agency can also start pulling money from other projects.
But without more money, Zimmerman said, the agency will be hard-pressed to deal with what's coming. "We're not even at peak hurricane season," she said.
Irma comes after Hurricane Harvey, which smashed ashore in Texas on 25 August causing widespread damage, power outages and flooding and taking almost a fifth of US oil refining capacity offline.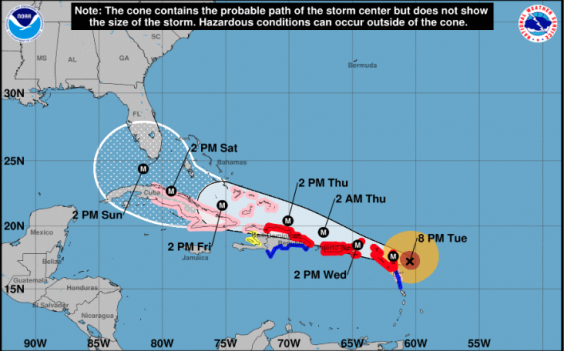 Shape of things to come? The US National Weather Service map of the expected trajectory of Hurricane Irma (US National Weather Service)
.