Floyd >My Body Began to Break-Up = I Decided to Retire -No Interest in Returning

Bleachers, posted 20 Feb 2016

Floyd Mayweather Says 'Body Started to Break,' Talks Amir Khan, Return Rumours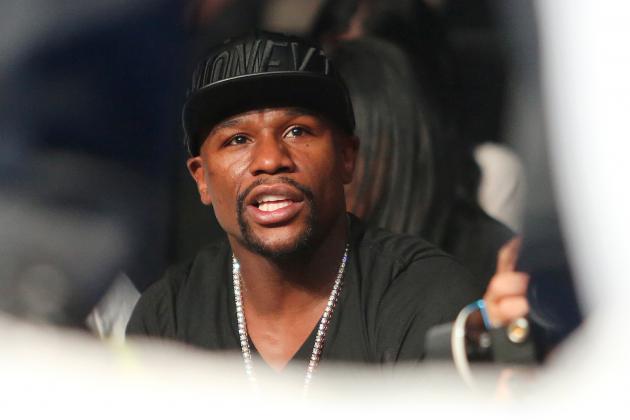 Floyd Mayweather Jr. has revealed his body started to break down towards the end of his career and insisted he has no interest in returning to the ring.
Money retired from boxing with an immaculate 49-0 record last September following a unanimous-decision victory over Andre Berto.
Although many have clamoured for him to return and attempt to break Rocky Marciano's historic unbeaten record with a 50th win, Mayweather, 38, indicated he will not be making a comeback, per Carlos Boogs of BoxingScene.com
I didn't go into the sport really focusing on breaking records, I got into the sport to display my skills. Rocky Marciano, what he did, he is a legendary champion and a great person. But I don't want boxing to retire me. I wanted to retire from the sport with all of my faculties.
Early on I was a huge power puncher, a knockout artist, but you have to learn to make adjustments. As I got older my body started to break down. Over half of my fights my body was not 100 per cent. I was using my B-game to beat a guy like [Berto in my last fight].


Many fans and pundits were underwhelmed by Mayweather's choice of Berto as his final opponent
Per ESPN's Dan Rafael, Berto did "absolutely nothing to earn the fight" and had lost three of his six bouts prior to facing Mayweather.
Meanwhile, more deserving fighters like Keith Thurman, Amir Khan, Kell Brook and Shawn Porter were overlooked.
In an attempt to clarify why he never took on the likes of Khan or Thurman, Mayweather said, per Boogs: "I couldn't fight everyone. It has to make business sense."
British fighter Khan has now sealed a title fight against WBC middleweight champion Saul "Canelo" Alvarez having been snubbed by Mayweather before his retirement.
Khan recently summed up the size of the task awaiting him, per talkSPORT:
The American still remains the one that got away for Khan, and it now seems highly unlikely that the Bolton fighter will ever face Mayweather or the soon-to-be-retiring Pacquiao.
The two multi-division champions have undoubtedly been the defining boxing figures of the last decade, and if Pacquiao goes through with his retirement plan after his bout with Timothy Bradley Jr. as expected, the ending of their respective careers will mark the beginning of a new era in the sport.
However, when Pacquiao and Mayweather actually clashed last May—in Money's penultimate bout—the so-called Fight of the Century was a huge disappointment.
The same fate could have easily befallen a Mayweather-Khan or Mayweather-Thurman clash given how clinical, yet uninspiring, Money's style was.
There now seems little chance of seeing Mayweather back in the ring against any opponent, given his confession over his fading fitness, and therefore his 49-0 record will likely stand unchanged in the record books.