Lewis Hamilton Reveals Monaco Crash Was Result of 'Heavy Partying' and Fatigue


By Bleachers, 14 Nov, 2015

Lewis Hamilton's indulgent lifestyle is clearly catching up with him as he has revealed that a minor car crash he had in Monaco in the early hours of Tuesday morning was caused by fatigue after consistent partying.
Per the Telegraph's Daniel Johnson, Mercedes driver Hamilton collided with three parked cars when driving his Pagani Zonda supercar in Monte Carlo on Tuesday but was unhurt and found not to have been drinking by police.
However, the newly crowned Formula One world champion has now admitted he was fatigued after days of partying, per BBC Sport: "It was a result of heavy partying and not much rest for 10 days. I am a bit run down. I have been non-stop and trying to fit training in at the same time and not getting a lot of sleep."
Hamilton arrived a day later than planned for this weekend's Brazilian Grand Prix, previously explaining on his Instagram account that it was because he had been suffering from a "fever":
Quote:
Dear TeamLH,

just wanted to let you know why things have been quiet on social media the past few days. I've not been well with a fever but I also had a road accident in Monaco on Monday night.

Whilst ultimately, it is nobody's business, there are people knowing my position that will try to take advantage of the situation and make a quick buck. NO problem. Nobody was hurt, which is the most important thing.
But the car was obviously damaged and I made very light contact with a stationary vehicle.

Talking with the team and my doctor, we decided together that it was best for me to rest at home and leave a day later. But i am feeling better and am currently boarding the plane to Brazil.

However, I am informing you because I feel we all must take responsibility for our actions. Mistakes happen to us all but what's important is that we learn from them and grow. Can't wait for the weekend Brazil.
Bless, Lewis

Lewis Hamilton Expects to Retire at 37 and Already Planning for Life Beyond F1
"I don't want to overstay my welcome," Formula 1's reigning world champion tells Sky Sports


British world champions Lewis Hamilton & Nigel Mansell discuss Lewis' recent title success and share their thoughts on everything F1!



Lewis Hamilton says he is already planning for his life after F1, with the world champion anticipating another seven years in the sport before he retires.
The Mercedes driver turned 30 at the start of this year and two weeks ago realised his childhood dream of emulating his hero Ayrton Senna's tally of three world titles.
Hamilton has already made clear his determination to achieve even more success in F1 - albeit without setting any specific new targets - and in May signed a new three-year contract with Mercedes.
Speaking in a wide-ranging interview with 1992 world champion Nigel Mansell for
Sky Sports F1
, Hamilton, who made his debut aged 22 with McLaren, explained why he wouldn't want to end up blocking the path of a future rising star.
"When I think about what year I would probably end up stopping, it'd be about 37 maybe," Hamilton told Mansell, who competed in his final GP at the age of 41.
"I remember watching Michael [Schumacher]. He'd won everything and dominated everyone by a million miles and he kept going and going because he loved it.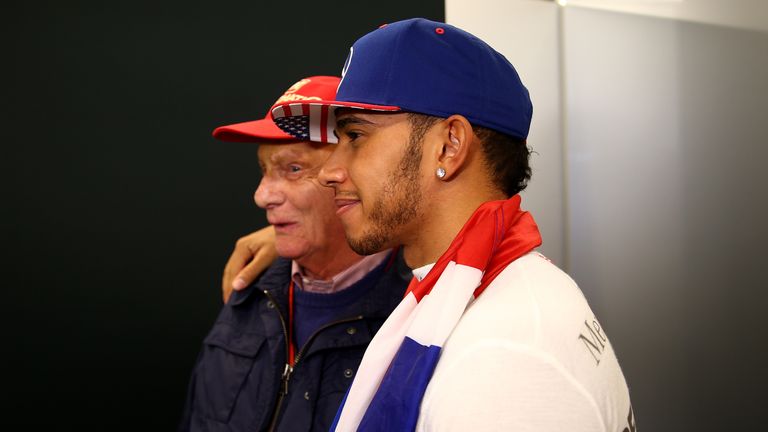 Hamilton is aware that ex-drivers such as Niki Lauda, one of his Mercedes bosses, established business ventures when they quit F1


"But I'm conscious that there's only 20 of us, 20 seats, and knowing just how it went when I got to Formula 1… [Juan Pablo] Montoya pretty much got fired, he left, there was a seat available and that was one more opportunity for another youngster to come in.
"I want to enjoy my period of time because I think I've earned it here, but I don't want to overstay my welcome because I know that every year that I stay there's one young kid who may have had a chance to come through, but because I stayed his chance may have been missed.
"So at one point I'm going to be conscious of that."
By the time Hamilton turns 37, in January 2022, he will have competed in F1 for 16 seasons - the same number as former team-mate Jenson Button has currently racked up.
And although retirement remains a long way off for now, Hamilton, whose off-track interests include music and fashion, revealed he is currently putting longer-term plans in place.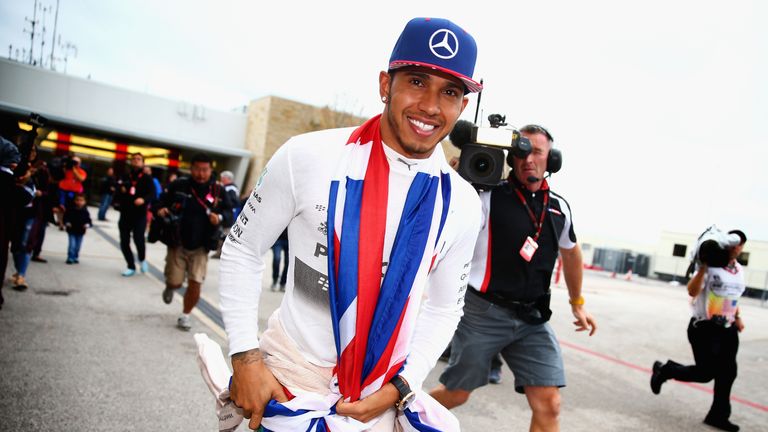 After nine seasons, Hamilton is already one of F1's most successful ever driver


"In the period of time now I'm trying to build a foundation for beyond Formula 1," he said.
"A lot of the drivers are still involved in F1 when they get past [driving], but you see the likes of Niki [Lauda] did the airline, even Keke [Rosberg] did some business outside. Eddie Irvine did something outside.
"They created some kind of longevity elsewhere and that's what I want to have because I love doing stuff outside of the sport."