Floyd Mayweather Mocks 'Joke' UFC Fighter Conor McGregor
USA TODAY Sports, 22 April 2015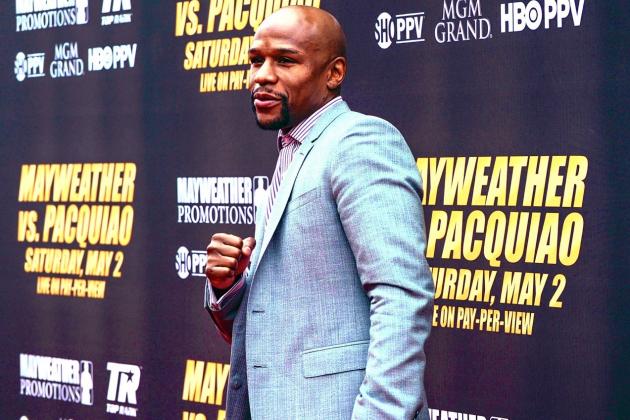 UFC featherweight title contender Conor McGregor was trying to get the attention of elite boxer Floyd Mayweather when he started leveling smack talk in his direction Thursday. He succeeded.
According to TMZ Sports, Mayweather fired back at the notoriously mouthy mixed martial artist, flatly labeling him a "joke."
"I don't take that dude seriously," he said. "He's just trying to get himself some publicity."
In a recent interview with Esquire, the Irishman said he'd be able to "wrap around [Mayweather] like a boa constrictor and strangle him" in less than 30 seconds.
Of course, it's worth noting that Mayweather, intentionally or not, played into McGregor's hand by even acknowledging him.
While the boxer skated cleanly through his non-rivalry with UFC women's bantamweight champ Ronda Rousey last year by wondering aloud who "he" was, trading blows with combat sports' pound-for-pound champion of the microphone for any length of time would be an unpleasant endeavor.
Dominant UFC featherweight champ Jose Aldo, who faces McGregor in July at UFC 189, couldn't maintain his usual stoicism after weeks of McGregor's antics.
Mayweather, of course, has a busy schedule these days as he prepares to face longtime rival Manny Pacquiao in one of the biggest events in boxing history. The bout, scheduled for May 2, will almost certainly be the biggest match of 2015 and is expected to shatter gate and revenue records.
Needless to say, fans shouldn't entertain the idea of a Mayweather vs. McGregor superfight. While the idea is intriguing, the promotional and financial barriers are far too tall to overcome at this point (oh, and they also compete in completely different sports).