Below are the official weigh-in results for Saturday's UFC 184 event.
UFC 184, which is headlined by the UFC women's bantamweight title fight between Ronda Rousey and Cat Zingano and the women's bantamweight bout between Holly Holm and Raquel Pennington, airs live on Pay-Per-View from STAPLES Center in Los Angeles, California at 10pm ET / 7pm PT.
Four prelim bouts will air live on FOX Sports 1 at 8pm ET / 5pm PT. And the event's first two prelims will air exclusively on UFC FIGHT PASS beginning at 7:00pm ET / 4:00pm PT.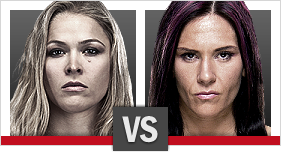 --------------Rousey vs. Zingano------------
MAIN EVENT - UFC Women's Bantamweight Title
Cat Zingano (134.5) VS Ronda Rousey (135)
PPV MAIN CARD
Holly Holm (135.5) VS Raquel Pennington (135.5)
Josh Koscheck (170.5) VS Jake Ellenberger (171)
Richard Walsh (171) VS Alan Jouban (170.5)
Gleison Tibau (155) VS Tony Ferguson (156)
FOX SPORTS 1 PRELIMS
Roan Carneiro (184.5) VS Mark Munoz (186*)
Kid Yamamoto (136) VS Roman Salazar (135)
Tim Means (170) VS Dhiego Lima (170)
Ruan Potts (253) VS Derrick Lewis (263)
UFC FIGHT PASS EARLY PRELIMS
Valmir Lazaro (155.5) VS James Krause (155)
Alex Torres (145.5) VS Masio Fullen (145)