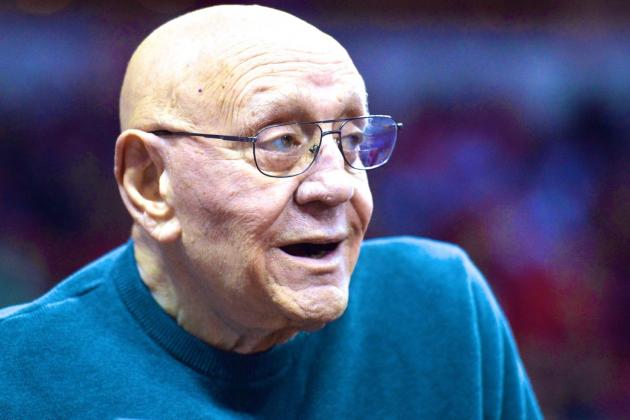 College basketball lost a true legend Wednesday, as longtime UNLV men's basketball coach Jerry Tarkanian died at the age of 84.
Per ESPN.com Tarkanian had been hospitalized with a respiratory ailment and infection since Monday in Las Vegas. It was the third time he had been hospitalized in the last 10 months. Unfortunately, the 2013 Naismith Memorial Basketball Hall of Fame inductee ultimately succumbed to the illness.
Tarkanian enjoyed a spectacular coaching career in the 31 seasons he called the shots between 1968 and 2002 with Long Beach State, UNLV and Fresno State. He took all three of those teams to the NCAA tournament, but he undoubtedly had his most success with the Runnin' Rebels.
He went 509-105 in 19 seasons with the Runnin' Rebels before finally being forced out by the university after a picture was published in the Las Vegas Review-Journal showing some of his players in a hot tub with a convicted game fixer.
Tarkanian led them to four Final Four appearances, including a national championship.
UNLV was known for its exciting, high-scoring style of play during its 19 seasons with Tarkanian at the helm. Tarkanian, nicknamed "Tark the Shark," won 729 games at the Division I level and also had a brief stint as head coach of the San Antonio Spurs in 1992 in which he went 9-11 before getting fired.
Per Seth Davis of CBS Sports, Tarkanian was a very popular figure due to his basketball philosophy and his engaging personality.
Tarkanian, who was often seen chewing on a towel during games, truly put UNLV basketball on the map, and he proved that an unheralded school could compete with and beat the big programs.
While Tarkanian's passing is a huge blow to college basketball, he will always be remembered as a true innovator and great representative.