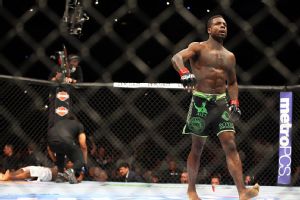 Chris Beal's flying knee made short work of Patrick Williams -- and earned him knockout of the year honors.
Had Patrick Williams not gotten in the way, Chris Beal might have jumped out of the Octagon on April 26.
In what was his official UFC debut, Beal, 29, scored a picture perfect walk-off flying knee at 1:51 of the second round of a bantamweight fight. It was the opening contest of a UFC 172 pay-per-view event in Baltimore, and it set the place on fire -- which can be a hard thing to do that early in a UFC card.
As anyone can see in the highlight, Beal launched himself into the air like a power forward looking to throw down a miss off the rim. His right knee landed on the button -- under Williams' chin for the flash KO.
On the call, UFC commentator Joe Rogan said, "That's one of the best flying knees I've ever seen."
What's ironic about the whole thing, is Beal, who trains out of Ventura, California, says the last thing his corner told him before his UFC debut that night was to not get hit by a flying knee.
"It's funny, as we were walking out to the stage, my coach was telling me, 'No matter what, if you get hit, stay calm,'" Beal told ESPN.com. "We don't want you going out there too excited and get caught by a flying knee or anything crazy like that.
"So, I guess the last thing I remember him saying was 'flying knee.'"
The knee (a technique Beal says he really doesn't use that often, by the way) came at a perfect time in his career.
Beal competed on season 18 of "The Ultimate Fighter" reality series, but lost his first fight on the show. He admits that, prior to his UFC debut, he had contemplated scaling back on MMA to pick up a full-time job to better provide for his young son.
At UFC 172, Beal collected an extra $50,000 "performance of the night" bonus.
"I still don't have the words to explain it," Beal said. "I was almost at the end of the MMA thing. I have a son I have to support. I was thinking about getting a regular job and putting fighting on the back burner. I'm glad I hit him with that knee. I got that bonus and my whole world changed dramatically.
Here is a look at the flying knee knockout:
https://www.youtube.com/watch?v=O6R0GO3TV_4