Tiger Woods' Short-Game Plight Means his Glory Days are Numbered

Woods rose to domination with sublime approach shots and finesse around greens.

Now he is in the shadow of Rory McIlroy

Woods stumbles to a 77 in Florida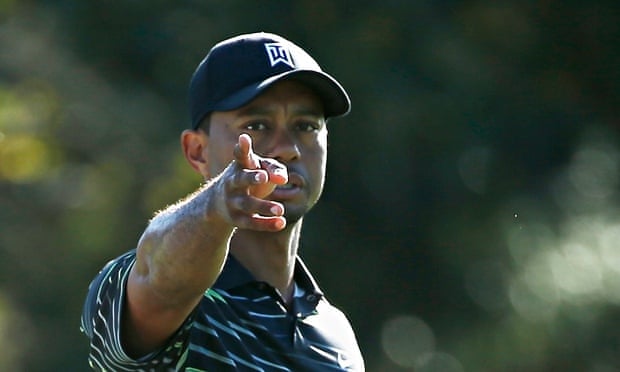 Tiger Woods waits to play a shot on the 12th during the Hero World Challenge at Isleworth
Photograph: Scott Halleran/Getty Images
Ewan Murray, The Guardian UK. Friday 5 December 2014
New coach, swing, clubs and golf ball. Full fitness, apparently. But a recurring failing for Tiger Woods.
The interest around the 14-times major winner's latest return to competitive action, in fact any attention attached to Woods, should not be sniffed at. In such a condensed sporting market, golf's profile is routinely boosted by the involvement of the iconic player of his generation. That should never be considered a bad thing.
Still, many analyses of Woods's abilities or failings are at odds with reality, arising from a dreamy desire to see this great player return to his form of yesteryear. He never will. It is impossible for him to do so, such has golf evolved and Tiger regressed. Both of these are natural developments.
When Woods dominated his sport, he retained the finest short game and ability to rescue troublesome – on course – situations better than any other golfer. He often needed those powers of recovery, in many ways this was what made his game such compelling viewing.
Put simply, certain skills had deserted him long before an opening round of 77 at Isleworth, Florida, on Thursday. Woods's short game was dismal, a damning indictment on a player who, during recuperation from back trouble, had an ability to chip and putt long before any other aspect of his game could be considered. It seems Woods has lost the ability to save himself with moments of genius, a matter which deeply defies theories on upper body or swing shape.
In the specific context of Woods's latest, troublesome round, facts tell a story. When you hit roughly 60% of fairways, you need to scramble well. When you find roughly the same number of greens in regulation, it is imperative to hole putts. Neither happened, hence a five-over-par total on a course Woods estimates he has played more than 500 times.
Dedication, or a lack of it, is the simple explanation for Woods's general rustiness. Other elements of his life have long since become more prominent than was the case when he rose towards greatness. Woods simply does not play or practise as much as he used to, a scenario which denies him the chance to add that extra 5% to core ability levels. A tiny percentage but vitally important in top-level golf.
Woods has shown no inclination to add in run-of-the-mill events to boost his competitive touch. In itself, this tells a story about the modern-day appetite of one of professional sport's most ferocious competitors.
This isn't to suggest Woods is finished. It also doesn't mean he is worthy of demeaning, as the American golf writer Dan Jenkins attempted to do in a parody piece recently. Woods was right to bite back at this attack on his character, published under the dubious guise of humour; it was a cheap shot and not a remotely funny one at that.
It isn't so long ago that Woods won five times in a calendar year, before another set of fitness ailments triggered struggles and an enforced absence. At 38, he retains a capability to succeed on certain venues, but the prospect of him putting necessary consistency together to equal or better the Jack Nicklaus haul of 18 majors has never been so low. Woods hasn't meaningfully contended for a major for too long, regardless of his own claims to the contrary. In those events, his inability to recover from sudden blows is magnified.
It was no surprise that odds appeared this week showing Rory McIlroy at a shorter price to topple the Nicklaus tally than the Northern Irishman's one-time idol. McIlroy has in front of him so much of what Woods has already left behind.
The wider issue relates to the lack of fear McIlroy and his peers display when Woods is around. Jordan Spieth produced one of the finest rounds of golf witnessed in this, or any other, year when claiming the Australian Open with a 63 last weekend. Spieth has carded low scores in the company of Woods, who once prompted shakes among his playing partners. It is hardly a shock, therefore, to see Spieth as the 18-hole leader at the Hero World Challenge with a score of 11 strokes better than Woods.
Others in the field, including Rickie Fowler and Henrik Stenson, have far stronger claims on this 18-man event than Woods. That isn't to belittle Woods, it is an unavoidable reality.
Woods will most likely battle back towards respectability this weekend in Florida. If would be wounding for him to finish last in an event which his Tiger Woods Foundation hosts. The bigger picture, though, won't change on account of improvement over 54 holes. Tiger may remain a marquee figure but history, rather than glaring evidence, illustrates why.