Brock Lesnar's WWE Title Reign is Floundering Due to Lack of TV Time
Nov 26, 2014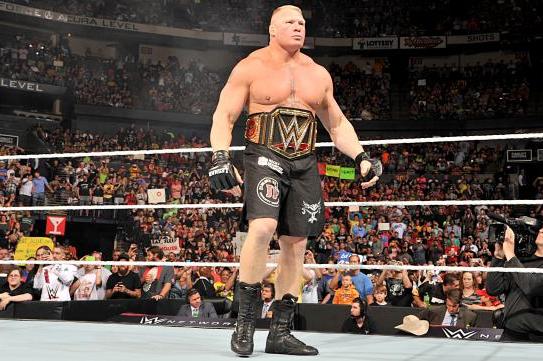 It is not harsh to say that Brock Lesnarís run with the WWE World Heavyweight Championship has been deeply disappointing and, in general, a major missed opportunity for WWE and its fans.
Itís easy to see why WWE made the call to put the belt on Lesnar at SummerSlam. He wasóand still isóa great monster heel. He was also the man who destroyed The Undertakerís legendary streak at WrestleMania 30, practically guaranteeing WWE had to continue pushing him to the moon.
No doubt WWE felt that Paul Heyman would be an appropriate replacement for his client on Raw and SmackDown. With Heyman around to do the talking, you surely wouldnít have to have the former MMA fighter on television every single week.
Alas, three months on from Lesnarís title victory, and itís clear that the writers made an egregious error in putting the belt on him.
It would be one thing if Lensar was only making sporadic appearances on televisionóbut he hasn't been making any at all. Save the odd recorded promo, as well as his title defense at Night of Champions, heís been totally absent. (Even with his busy Hollywood schedule, The Rock made more appearances when he held the title in early 2013.)
Nor is Heyman a particularly prominent character anymore. Both he and his client, and inevitably the WWE World Heavyweight Championship, have faded from relevance.
The problem may be that Lesnar works mainly as a special attraction, and while that may work in UFC, it's something that is just not compatible with holding a top wrestling belt in 2014. Fans have been conditioned to expect to see their champions on at least a semi-regular basis.