Notre Dame to Play Navy in Dublin in 2020, 35,000 Irish Fans Expected
The Irish ag dul ar ais go hÉirinn
Irish Central, 29 Oct 2018.
Thirty-five thousand Irish Americans are expected back on the old sod for a Notre Dame versus Navy season-opening game scheduled for August 29, 2020, at the Aviva Stadium in Dublin.

The last game in 2012 resulted in the largest ever convoy of Americans to visit Ireland as Notre Dame followers traveled in their tens of thousands. The game was at Croke Park and the Irish won easily.
Now the 94th playing of the Navy-Notre Dame game will be on Aug 29, 2020, Naval Academy Director of Athletics Chet Gladchuk; University of Notre Dame Vice President and James E. Rohr Director of Athletics Jack Swarbrick, and the Prime Minister of Ireland Leo Varadkar announced on Wednesday.
"The University of Notre Dame, our football program, our alumni and fans had such a wonderful experience in 2012," said Swarbrick.
"The people of Ireland were incredibly welcoming and made our time on the Emerald Isle unforgettable. It wasn't long after our return from that trip that Navy initiated conversations with the hopes of bringing this matchup back to Dublin. Chet and his staff at Navy deserve a ton of credit for making this a reality.
"I'm so excited, not only for our student-athletes and those that will travel from the states but for the people of Ireland and all of those that will make this another experience to cherish."
"We are thrilled and excited to return to Aviva Stadium in Dublin for the 94th playing of the Navy-Notre Dame game," said Gladchuk.
"In 2012, it was one of the greatest airlifts in all of sports with more than 35,000 people coming from the United States to witness the beauty of Ireland and the extravaganza that is Navy-Notre Dame and we expect just as many people to return in 2020.
The support and enthusiasm for the game in Ireland is magnificent with the complete support from the Prime Minister and the Irish government agencies. We are looking forward to a great matchup in a country that knows no bounds for hospitality."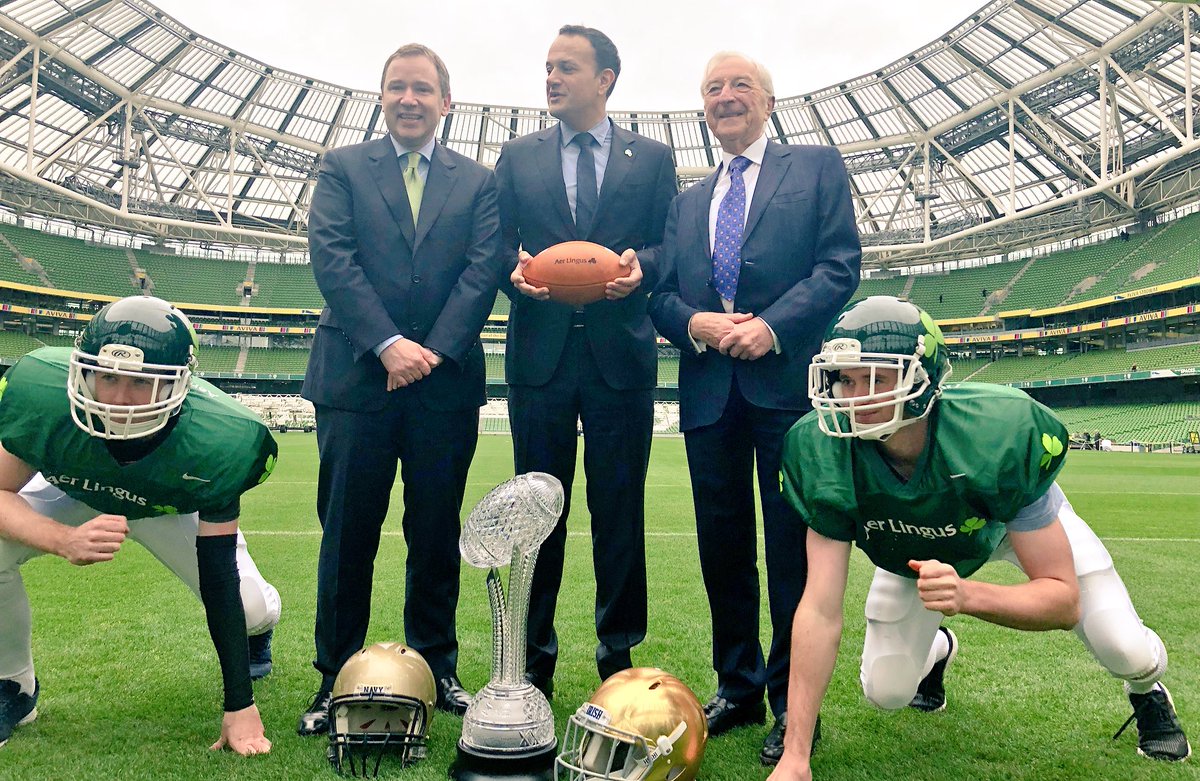 "College football is one of the greatest spectacles in world sport and to bring it back to Ireland for a five-year series is wonderful news for Irish tourism and for sports fans," said Varadkar.


"Over 35,000 fans travelled to Ireland when Notre Dame and Navy last met in Dublin in 2012 and we will warmly welcome them and many others back for the Aer Lingus College Football Classics. Major games such as this one showcase Ireland as a location for international events and tournaments and put our world-leading hospitality and tourism sector front and center. I look forward to the first game of the series with the return of Notre Dame vs Navy in August 2020; I have no doubt it will."
The Navy-Notre Dame rivalry is the longest continuous intersectional rivalry in college football with the two schools having met every year since 1927. The 90th meeting between the two schools will take place on Saturday, Oct. 27, at San Diego County Credit Union Stadium in San Diego, California. Kickoff is set for 8 p.m. ET and will be seen nationally on CBS.
The announcement by Prime Minister Varadkar in Dublin is part of a five-game American Football Series that will bring a $250 million economic value to the country. Aer Lingus was unveiled as the title sponsor for the series and all five games will be played in Aviva Stadium, starting with the Navy-Notre Dame game. The classic will be called The Aer Lingus College Football Class.
The games will be organized by Irish American Events Ltd., which is a joint venture between Corporate.ie and Anthony Travel, which have been involved in college football games in Ireland previously.
The other key partners who will drive the game in both Ireland and America are Failte Ireland, Tourism Ireland and Dublin City Council.
Read more: Begorrah! Leprechaun tryouts for Notre Dame Fighting Irish job this weekend
.
...