Canelo Alvarez Is out of Chances to Prove He's Not Afraid to Fight the Best
By Bleachers, 18 Jan, 2017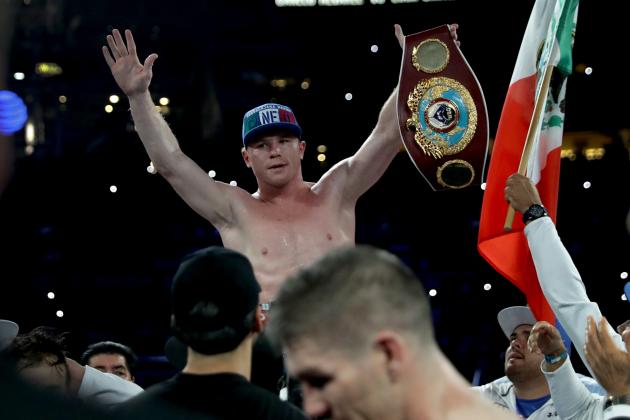 Ronald Martinez/Getty Images


Canelo shouldn't get any more free passes after Chavez.
Oscar De La Hoya and his main charge Saul "Canelo" Alvarez have literally everything on the line when the cinnamon-haired star steps in with Julio Cesar Chavez Jr. May 6 on HBO pay-per-view.
The fight between not-middleweight Canelo and Chavez will be contested within the super middleweight division at a catchweight of 164.5 pounds.
It's a huge event, even if the fight is about as cynical a money grab as we've seen in the sport since Floyd MayweatherJr. and Manny Pacquiao raked fans over the coals to the tune of a half-billion dollars for a fight several years past its expiration date.
De La Hoya, a Hall of Fame fighter who took on everyone in his era, notably penned a scathing letter to his longtime rival shortly after his retirement following his lopsided decision over Andre Berto taking him to task for avoiding risk.
"You were afraid. Afraid of taking chances. Afraid of risk," De La Hoya wrote of Mayweather in
Playboy
magazine in Nov. 2015
"You should have fought Pacquiao five years ago, not five months ago. That, however, would have been too dangerous. Too risky. You've made a career out of being cautious."
De La Hoya promised Golden Boy Promotions would be about the "best taking on the best," and that's absolutely not what we have in Canelo vs. Chavez.
And that's why fans must make sure this is the last free pass that De La Hoya and Canelo get if they wish to market him as the take-on-all-comers face of a new era that's
different
from the last.
You can definitely understand the financial and cultural reasons behind this fight. It's an all-Mexican showdown on Cinco de Mayo weekend between the country's biggest current star and the son of its all-time greatest fighter.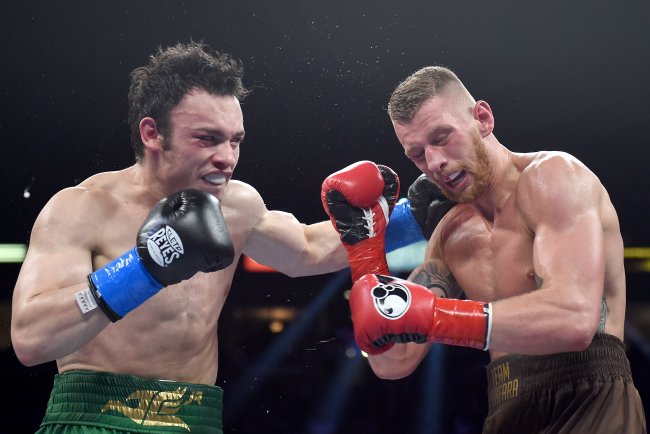 Harry How/Getty Images
Chavez earned this fight with his last name and not his in-ring accomplishments.
It'll do good business and make a lot of money.
There was even a time when this was talked about as a potential future superfight.
But that was before Chavez allowed his lack of commitment to the sport to derail what looked like a promising young career.
He hasn't been at or near the top of the sport in years and has been better known as a punchline rather than for his punch stats.
Chavez has seemed content to ride his famous last name to all he's achieved in this game, and it's literally the only reason why he's been picked to follow the murderer's row of chinny blown-up welterweight Amir Khan and unknown Liam Smith.
Hell of a run for the new face of the post-Floyd era that was supposed to be all about taking risks.
Chavez's last victory of any sort of consequence came against Andy Lee nearly five years from when he'll face Canelo.
Since then, he lost all but a few seconds to Sergio Martinez, was gifted a decision against Brian Vera in a fight he lost, missed weight a bunch of times, got destroyed by Andrzej Fonfara and beat a couple of nobodies to "earn" this opportunity.
For schadenfreude purposes alone, you'll find a fair amount of boxing fans who hope Chavez gets his act together and is highly motivated to at least give Canelo a tough fight, but his track record is against him.
This is not the best taking on the best.
It's what Oscar criticized Floyd for.
It's calculated.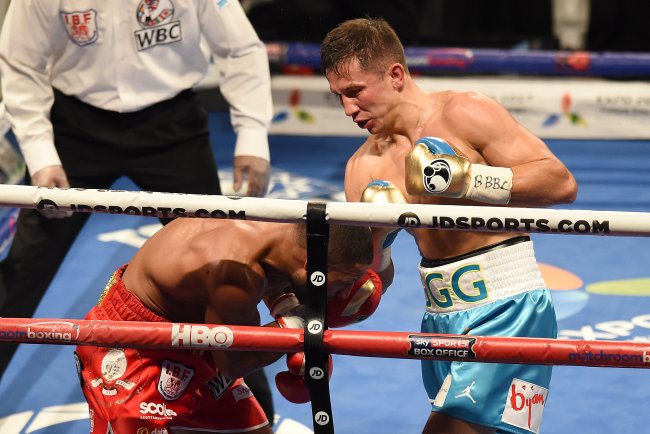 Leigh Dawney/Getty Images

Khan, Smith and Chavez must be followed by GGG or else Canelo's reputation will be gone.
It's a risk that isn't really a risk but one they'll spend the next four months trying to convince you is about something bigger than just money.
They're lying.
It's the same type of logic used to justify Khan (it's a big event) and Smith (he's a world champion, as if that matters to a star as big as Canelo) as worthwhile fights while avoiding the only one that matters.
And the only one that will show Canelo is serious about being the face of a new era based on best versus best and not calculated risks with record-padding paydays.
You want to give Canelo a free pass here?
Fine, even if this makes three in a row.
But make sure it's the absolute last one because the final remaining excuse is gone.
Canelo would be just fine at middleweight. De La Hoya even went to great lengths to diminish Mayweather's victory at 152 pounds because his man was "too young and had to drop too much weight."
So if he can go up to super middleweight for Chavez and a boatload of cash, then he can certainly do 160 for Gennady Golovkin, the No. 1 fight in the sport right now.
And it has to happen in the fall.
No excuses, or else Canelo, his reputation and De La Hoya's new era will all be the casualties of this cynical money grab.