Updated 1:56 AM EST, Mon November 4, 2013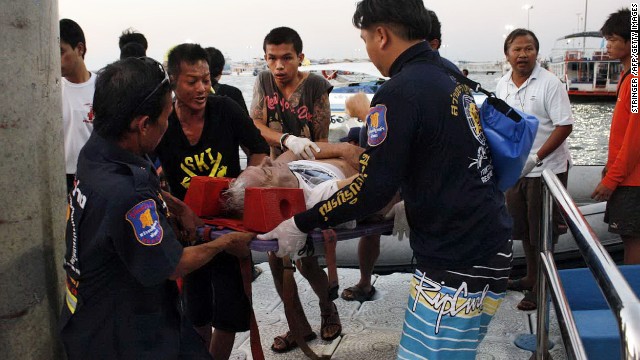 Thai rescue personnel evacuate an injured foreign tourist after a ferry sank off the coast in Pattaya on November 3, 2013.
Bangkok, Thailand (CNN) -- Six people died after the tourist ferry they were traveling on capsized near a Thai beach resort, authorities said.
The double-decker ferry was overcrowded when it tipped over Sunday afternoon between the popular resort of Pattaya and Koh Lan, an island off the coast, said Lt. Wuttipon Trakulviratikul, a Pattaya police official.
Three of the dead were Thai, two were Russian and one was from Hong Kong, Wuttipon said, adding that 12 others were injured, five of them foreigners.
He said police were yet to confirm the total number of people on board the ferry, although it was estimated to be around 100.
__________________
Rock Out With DreamTeamDownloads1-The Best Place To Be For Downloads.
You Can Help the site If You Donate, Please Click Here:
DONATE
Thank You For Your Support & Membership To DTD1.