Updated 8:06 AM EDT, Mon September 30, 2013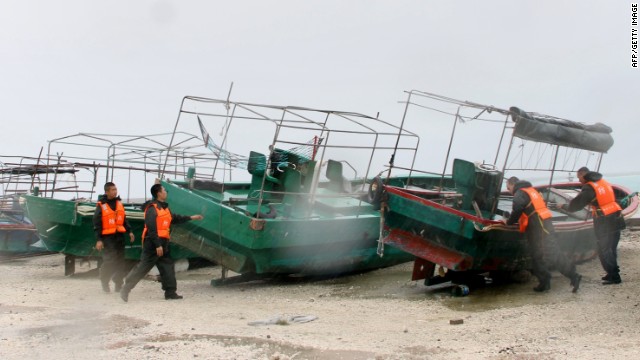 Emergency personnel work to secure fishing boats parked in a harbor on Yongxing island, on Sunday, September 29.
Beijing (CNN) -- Seventy-four people are missing after three Chinese fishing boats sank in the South China Sea amid stormy weather caused by a typhoon, state media reported Monday.
The vessels, from the southern province of Guangdong, foundered Sunday afternoon as they battled gales about 330 kilometers from the Chinese island of Hainan, the state-run news agency Xinhua reported, citing maritime authorities.
The storm, Typhoon Wutip, is forecast to make landfall in central Vietnam later Monday.
As of Monday noon, rescuers had retrieved 14 survivors, though rescue operations have been hampered by strong gales and rough seas, sources with the Hainan maritime search and rescue center told Xinhua.
The sources added that a total of five fishing boats with 171 crew aboard had been caught in the storm.
Meanwhile, President Xi Jinping urged local authorities to do their utmost to find the missing or stranded and minimize casualties," state media reported.
Xi also ordered the armed forces and central government departments to help in the rescue effort.