Updated 8:31 AM EDT, Wed August 7, 2013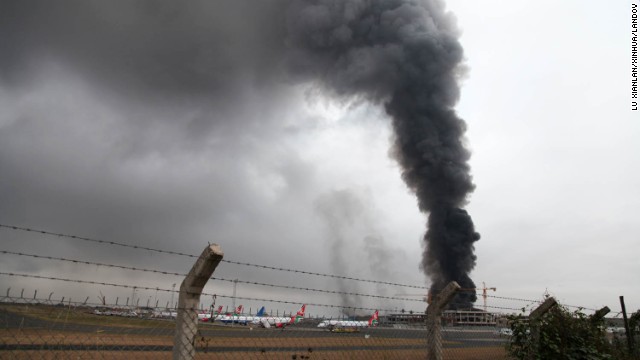 A massive fire shut down Nairobi's Kenyatta International Airport on Wednesday, causing extensive damage and a potentially huge toll on Kenya's tourism and commerce.
The blaze had engulfed the airport's entire international terminal, Ken Mijungu of CNN affiliate NTV reported. No casualties were reported from the fire, which sent a large plume of thick black smoke into the sky.
Fire engines ran dangerously low on water during early stages of battling the flames, the Interior Ministry tweeted. But authorities say the fire has been contained.
Cargo and domestic services were expected to resume in the afternoon from the cargo area, and authorities were working on a time frame for resuming international flights, said Manoah Esipisu, Kenya's secretary of communication and State House spokesman.
Depending on how long the airport is closed, the blaze could have a serious impact on the flow of tourists into the country and the export of agricultural products. A major travel hub in Africa, Nairobi is the capital of Kenya. Fresh fruits and vegetables are exported from there to Europe by plane many times a week.
"There has been serious disruption of the aviation operations at the airport," Esipisu said in a prepared statement. "Contingency measures have been put in place to stabilize the situation and to return the airport to normal operations."
President Uhuru Kenyatta visited the scene. Esipisu said in the statement that the president reassured the aviation industry and local and international travelers that everything is being done to get back to normal and help lines have been set up.
"To the thousands of passengers, including tourists, whose journeys were disrupted, the President shares your concerns and regrets the inconvenience. We are concerned that the incident interrupted travelers' schedules and appreciate that they are being routed to their destinations as soon as is possible," Esipisu said in the statement.
Mijungu said parts of the duty-free area had been demolished for construction last week, but the cause of the blaze was not known. Nothing has been ruled out, Kenyan government spokesman Muthui Kariuki said.
"The cause of the fire is being investigated. There is no reason to speculate at this point. There was no loss of life," Esipisu said.
The blaze occurred on the 15th anniversary of the deadly terrorist attacks on the U.S. embassies in Kenya and Tanzania.
It also comes days after the United States issued a worldwide travel alert and closed a number of embassies and consulates over large areas of the Middle East and Africa -- but not in Kenya or Tanzania.
In those 1998 near-simultaneous attacks, 224 people died and about 4,500 were injured.
Security is being ramped up at the airport, said Josef Ole Lenku, Kenya's Cabinet secretary for interior and security.