Updated 9:15 AM EDT, Fri April 12, 2013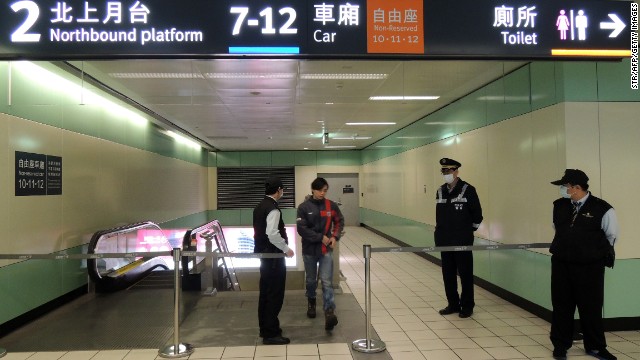 A passenger walks past the closed off area at Taoyuan High Speed Rail Station on April 12, 2013 after two suspected explosives and triggering devices found on the train.
Six hundred passengers were evacuated from a high-speed train in Taiwan on Friday after explosives -- attached to a timer and apparently close to detonation -- were found in luggage inside a restroom, police said.
The Taiwan High Speed Rail Corp. train stopped at Hsinchu City after someone found the explosives in two pieces of luggage shortly after 9 a.m., according to police.
Police said the luggage was emitting white smoke, and people nearby could smell gas. The setup included 5 liters of gasoline and an activated timer device to trigger them, police said.
Investigators believe the explosives would have detonated had authorities not intervened, according to police. They said they believe the blast would have taken out one carriage.
A carriage can carry about 60 passengers.
Police did not release any information about who could be responsible for the device.
The train started at Zuoying and was headed to Taipei.
__________________
Rock Out With DreamTeamDownloads1-The Best Place To Be For Downloads.
You Can Help the site If You Donate, Please Click Here:
DONATE
Thank You For Your Support & Membership To DTD1.