Updated 8:50 AM ET, Thu March 5, 2015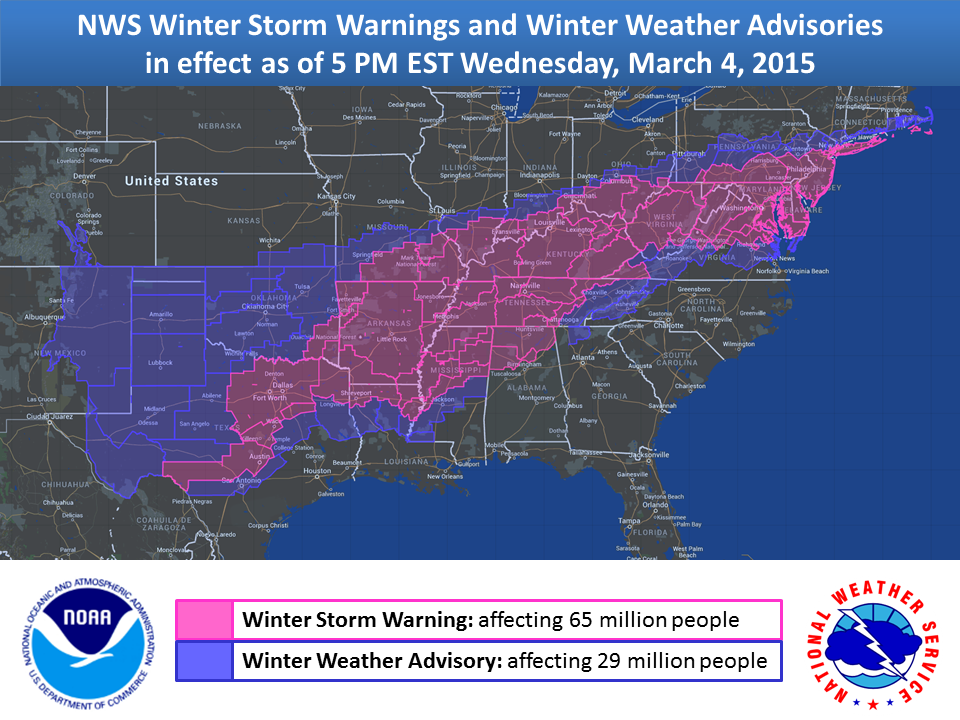 For its sheer size, this one is a monster, stretching from New Mexico to southern New England.
If you're keeping track on your maps at home, that's 2,000 miles of snowy misery and 94 million people under some sort of winter weather warning, watch or advisory.
Some Tweets From Different states:
Texas
Enough of the sleet and ice in the Dallas area. More than 640 arrivals and departures were canceled at Dallas/Fort Worth International Airport on Wednesday. Another 540 have been scrubbed for Thursday.
Oklahoma
Enough snow to hide your energy drink.
Kentucky
Enough snow to cover the yard and street. Some areas will get 6 to 10 inches.
People in Kentucky will have plenty of snowman-building material.
Washington D.C.
Enough snow for a snow emergency. The federal government is closed on Thursday.
Tennessee
Enough snow to eat ice cream.
New Mexico
Enough snow to ...
Actually, New Mexico is weird.
New Jersey
Enough snow for a snow day.
West Virginia and Pennsylvania
Enough snow and rain to cause problems. The area will get up to 4 inches of rain before it turns to snow.
The National Weather Service warned that flooding could be an issue, especially across the lower Ohio Valley and western Mid-Atlantic regions.
CNN affiliate WCHS reports a mudslide in Mingo County, West Virginia, sent one woman to the hospital.
Massachusetts
Enough snow to go totally nuts.
So far this season Boston has seen 105.7 inches -- almost 9 feet -- of snow. That's just 1.9 inches short of the record set nine years ago.
More snow is expected from this system, but it's not likely to be enough to break the record as the forecast models indicate the majority of snow will stay south of the city.
There is a slim chance of snow on Thursday, followed by days of sunshine and temperatures near 40 by Monday.