Deadly Floods in France and Italy
euronews, 16 November, 2014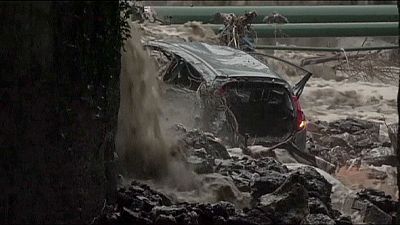 Floods in France have claimed at least five lives including that of a mother and her two young children.
A car carrying the woman and her sons aged four and one was swept away from a rural bridge as river levels rose rapidly in the southern Languedoc-Roussillon
A car carrying the woman and her sons aged four and one was swept away from a rural bridge as river levels rose rapidly in the southern Languedoc-Roussillon region near Nimes. The boys' father was rescued. He is in hospital in a state of shock.
Separately in the southeast, two other people died after their cars were caught in raging floodwaters.
The situation is no better in Italy where extreme weather has taken a heavy toll for weeks.
The north is the latest region to suffer with at least six people killed in recent days as floods and landslides wreak havoc.
A major search was launched near Genoa after a man was reported missing, his car swept away by a torrent. A body was later found.
Civil protection authorities have sent emergency teams with water pumps and earthmoving gear to Genoa but more heavy rain is forecast.
MORE:
Elderly Couple Buried Alive Under Mud and Debris as Northern Italy Floods
ROME, (Reuters)
- An elderly couple was believed to be buried under a mudslide which crushed their house in northern Italy and a woman, trapped in her Tuscany home by heavy flooding, died of a heart attack on Tuesday.
There was little hope of finding the couple alive after the wave of mud and debris hit the village of Leivi in the north-western region of Liguria, a spokesman for the civil protection agency said.
The regions of Tuscany, Liguria, Lombardy, Emilia-Romagna were all badly affected by torrential rain and flooding.
As the rain persisted, schools were closed and the civil protection agency said it would maintain maximum alert levels in Liguria until Wednesday afternoon at the earliest.
"Some towns have had more the 20 centimetres (8 inches) of rain in 12 hours on terribly fragile terrain," the head of Italy's civil protection agency, Franco Gabrielli, said.
Buildings were evacuated in Liguria's main city, Genoa, and several towns in the region were knee deep in water after torrential rain caused three rivers to burst their banks, rekindling a festering row over environmental neglect.
Italy's unstable, mountainous landscape leaves it vulnerable to flooding and landslides and Liguria, between the sea and a ring of steep mountains, is particularly exposed. The problems have long been made worse by abandonment of farmland, unauthorised construction and poorly planned infrastructure.
Environment Minister Gian Luca Galletti said much of the responsibility lay with repeated amnesties which have encouraged illegal housebuilding, and vowed that the amnesties would stop.
St Mark's Square Venice