San Francisco:
A strong 6.0-magnitude earthquake jolted California early on Sunday morning, the US Geological Survey said, though there were no immediate reports of deaths or serious damage.
The quake struck at 3:20 am (1020 GMT) northwest of American Canyon, California, USGS said, at a depth of just 6.7 miles (10.8) kilometers from the surface.
Residents of the cities of San Francisco, some 40 miles away, and Davis, just over 70 miles away, quickly took to Twitter reporting feeling the quake.
Summary
Location and Magnitude contributed by: Northern California Seismic System, UC Berkeley and USGS Menlo Park
General
California
38.214°N, 122.319°W
Depth: 10.8km (6.7mi)
24, 2014 -- Updated 1103 GMT (1903 HKT)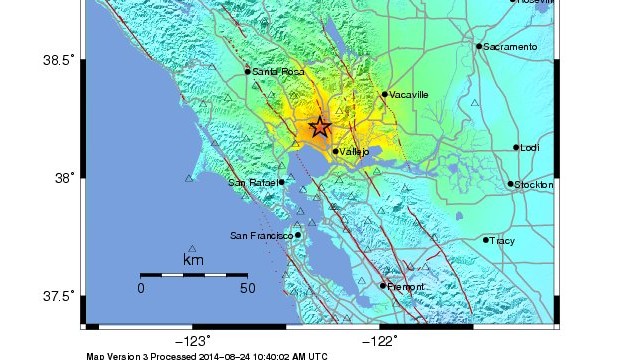 This USGS image shows the intensity of the California earthquake August 24, 2014
Event Time
2014-08-24 10:20:44 UTC
2014-08-24 03:20:44 UTC-07:00 at epicenter
2014-08-24 11:20:44 UTC+01:00 system time
Location
38.214°N 122.319°W depth=10.8km (6.7mi)
Nearby Cities
6km (4mi) NW of American Canyon, California
9km (6mi) SSW of Napa, California
13km (8mi) NNW of Vallejo, California
14km (9mi) SE of Sonoma, California
82km (51mi) WSW of Sacramento, California