Updated 4:41 AM EDT, Thu April 18, 2013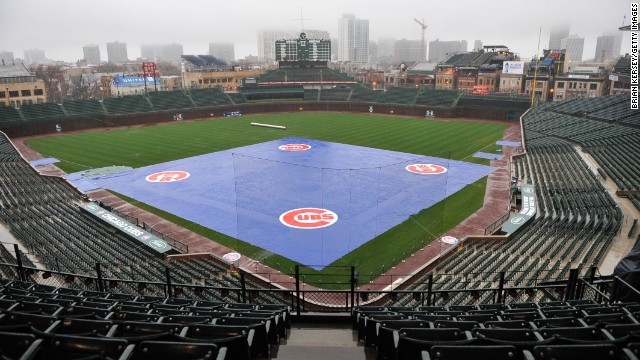 A tarp covers the infield as a heavy rain falls at Wrigley Field on Wednesday in Chicago. The game between the Chicago Cubs and the Texas Rangers was postponed due to weather conditions. The same weather system forced the cancellation of about 800 flights at O'Hare International Airport.
A powerful spring storm that snarled air traffic from Denver to Chicago moved into U.S. heartland Thursday, tormenting the region with everything from heavy snow to severe thunderstorms.
The National Weather Service forecasts a moderate risk of severe weather from Arkansas and Mississippi to southern Michigan, but the full reach of the system stretches from Texas into Canada.
Airlines reported more than 200 cancellations at Denver International Airport on Wednesday after the storm system dumped up to 7 inches of snow in the area and much more in the mountains.
Flight delays at the Denver airport averaged just over two hours and 15 minutes on Wednesday afternoon, according to the Federal Aviation Administration. And there would be no home runs flying out of Coors Field either, as snow prompted the postponement of Wednesday's night baseball game between the Colorado Rockies and New York Mets.
Parts of the state were under a blizzard warning before storm moved to the east.
At O'Hare International Airport in Chicago, meanwhile, about 800 flights were canceled Wednesday because of strong rainstorms. The early cancellation tally for Thursday was just over 200, according to FlightAware.com.
The weather system caused its share of trouble across the southern Plains. Severe weather Wednesday evening damaged a Goodyear tire plant and other buildings around Lawton, Oklahoma, Comanche County Sheriff Kenny Stradley said.
There were no immediate reports of injuries.
Lawton, Oklahoma also was hit by showers and thunderstorms Wednesday night.