Updated 9:05 AM EDT, Tue April 9, 2013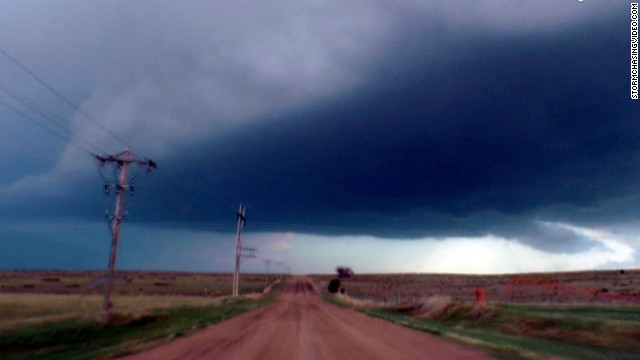 A tornado touched down briefly south of Bonny Lake in Colorado under a thunderstorm on Monday.
A wildfire due to extreme drought, a possible tornado touchdown and a blizzard warning all within a 50 mile radius -- the weather in northeast Colorado must have gone crazy overnight.
Hours after firefighters defeated a 2,600 acre blaze in Sterling County, a wind storm, suspected of being a tornado, tore down a home in adjoining Washington County to the south.
The National Weather Service is predicting a blizzard in the neighboring counties of Arapahoe and Adams to the east, where temperatures should drop into the single digits Tuesday night.
Those traveling to the area beware
.
At least two dozen flights into Denver International Airport are expected to be canceled, as the tarmac is predicted to see 5 to 8 inches of snow.
The city of Denver could see as much as a foot, with surrounding mountain regions getting even more, according to the weather service. Over 200 hundred schools are closed on Tuesday, CNN affiliate KUSA reported, in the capital of a state that is used to frozen precipitation.
Colorado is on the southern end of an April snowstorm intent on ignoring the fact that spring came almost three weeks ago and which stretches from Utah into Minnesota.
Parts of Wyoming and South Dakota should see as much as 16 inches of snow by the end of Tuesday. Nighttime lows there are expected to drop into the teens.
Inclement weather is not limited to the snow and ice. The National Weather Service said to expect "a plethora of interesting weather conditions."
Flood watches and warnings are in effect for most of Wisconsin Tuesday, to be followed by freezing rain later in the week.
"Severe thunderstorms and even isolated tornadoes are possible across the central and southern Plains to the mid and lower Mississippi Valley," the weather service said.
By Wednesday, a squall line stretching from Memphis, Tennessee, down through Louisiana should roll eastward through the Deep South, pushing through heavy thunderstorms, hail, damaging winds and possibly short-lived tornadoes, forecasters said.
It will be unseasonably warm in the Ohio Valley, Mid-Atlantic and Southeast, the weather service predicts.
Most of the country will see rain for the better part of the week. That's good news for the Plains and Mountain states, which have seen extreme to exceptional drought for months.
The snow in the Mountain states will extend the fun for winter sport fans, according coloradoski.com.
As ski season winds down, with about half of resorts already closed, some popular slopes are expecting 1 -- 5 inches of fresh powder through Wednesday.
The same goes for resorts in Utah.
The Easter Bunny may have left the Rockies over a week ago, but from Aspen to Park City, you may still find some winter wolves.