At Least Two People Die as Iran is Hit by Series of Earthquakes

70-year-old man reportedly dies of heart attack while a pregnant woman dies unclear circumstances
Independent UK, 27 AUG 2018.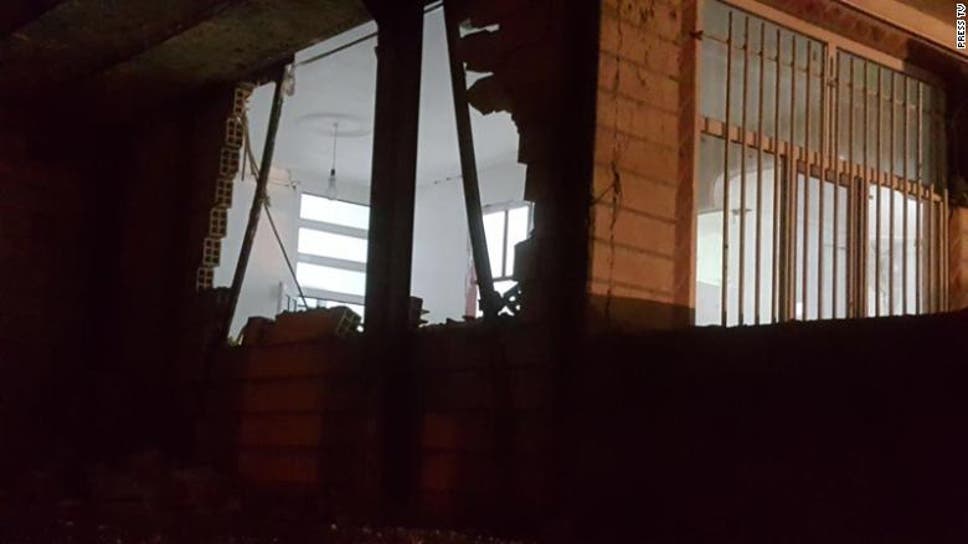 Footage from Iranian state run Press TV shows damage to a wall following the earthquake.
(
Press TV
)
At least two people have died and 310 were injured after a 5.9 magnitude earthquake rocked tremor-prone western Iran on Sunday morning.
A 70-year-old man died of a heart attack in the midst of the earthquakes, while a pregnant woman also died in circumstances which were not yet clear, state television reported.
The quake was followed by two other smaller tremors, at 4.4 and 4.2 magnitude respectively, with 65 aftershocks coming subsequently near the city of Javanrud in Iran's Kermanshah province, government sources said.
Most of the injured were treated as outpatients and were later released from hospital, although six people were hospitalised, Saeb Modarresi told the Islamic Republic News Agency (IRNA).
The country's president, Hassan Rouhani, ordered his interior minister, Abdolreza Rahmani Fazlito, to provide immediate relief to the earthquake-stricken region, and authorities said rescue teams had been deployed to the area.
The quakes began after 2:30am on Sunday with the magnitude 6 tremor striking near the city of Javanrud some 460 kilometers (285 miles) west of the capital, Tehran.
State television aired images of bricks and masonry that had smashed a car, as well as shattered glass that filled a stairwell, while other images showed cracks in walls. It said every city in Kermanshah province felt the initial temblor.
According to the Seismological Center of the Geophysics Institute of Tehran University, the tremor occurred at 5:23am local time (00:53 GMT) from an epicentre 12km underground.
Iran sits on major fault lines and is prone to near-daily earthquakes. In 2003, a 6.6-magnitude quake destroyed the historic city of Bam and killed 26,000 people.
In November 2017, a major 7.3 magnitude earthquake struck the same region, killing over 530 people and injuring thousands in Iran alone. In Iraq, nine people were killed and 550 were injured.
Some people remain homeless from last year's earthquake in the almost entirely Kurdish province of Kermanshah, nestled in the Zagros Mountains along the border with Iraq.