Photos Show The True Toll of California Wildfires on Firefighters >Since Igniting a Week Ago the Blazes Have Killed at Least 40 People With Hundreds Still Missing
Independent UK, 16 October 2017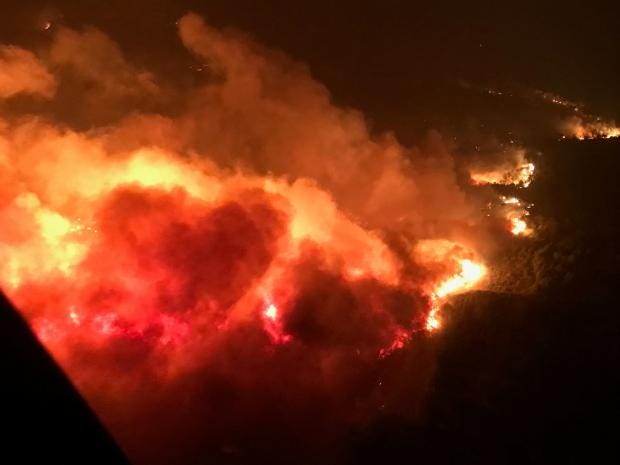 ,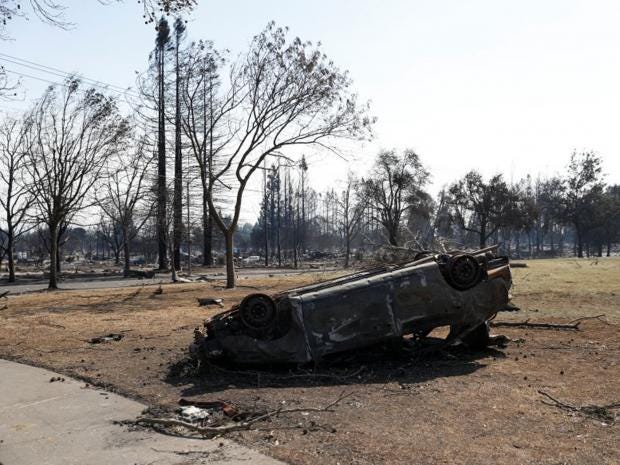 California fires: Immigrants living illegally in path of blazes told they won't be deported. Officials have reassured immigrants it's safe to go to shelters
.
California's firefighters have been struggling for a week now to put out the wildfires which have swept through the state.
Images of exhausted firefighters sleeping on the ground, using rocks as pillows and facing raging fires have been widely shared as the blazes take their toll.
At least 40 people have been killed and hundreds are still missing after six days of wildfires which have swept across the countryside and destroyed thousands of homes.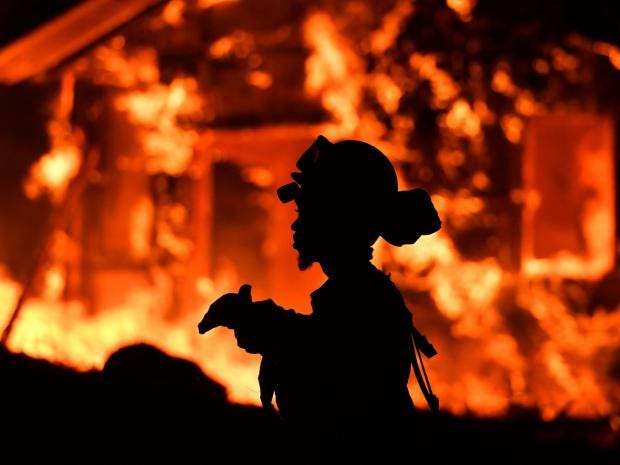 Firefighters are still battling to bring 16 remaining fires under control Josh Edelson/AFP/Getty
.
More than 100,000 people have been displaced in what California's governor, Jerry Brown, has described as "one of the greatest tragedies" to ever affect the state.
On Saturday powerful winds picked up overnight in the central Napa Valley causing the fires to spread and leading to residents being evacuated in Sonoma.
Despite emergency services working around the clock to contain the blazes more than 10,000 firefighters are still battling to put out 16 remaining fires.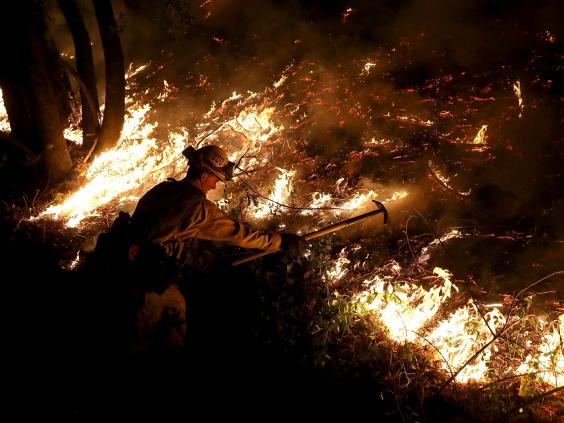 A firefighter using a hand tool as he monitors a firing operation while a fire near Calistoga, California (Justin Sullivan/Getty Images)
The standard practice for firefighters in a California wildfire is to work for a 24-hour shift and then have 24 hours off, however, in this instance many have had no chance to rest for days, instead catching a few hours sleep when they get the chance, according to the
New York Times
.
One group of residents left behind cookies for fire crews with signs which read: "Please save our home!"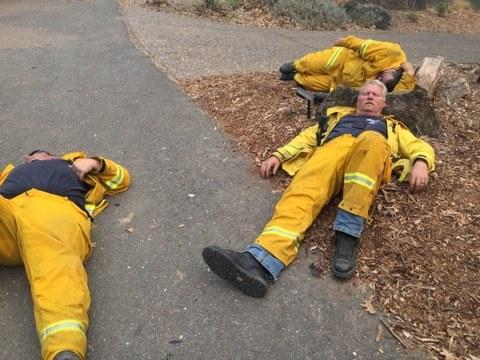 Exhausted firefighters try to get some rest on the ground using rocks as pillows (Sebastopol Fire Department/Facebook)
Since igniting last Sunday in spots across eight counties the blazes have ripped through 220,000 acres and destroyed at least 5,700 homes and businesses.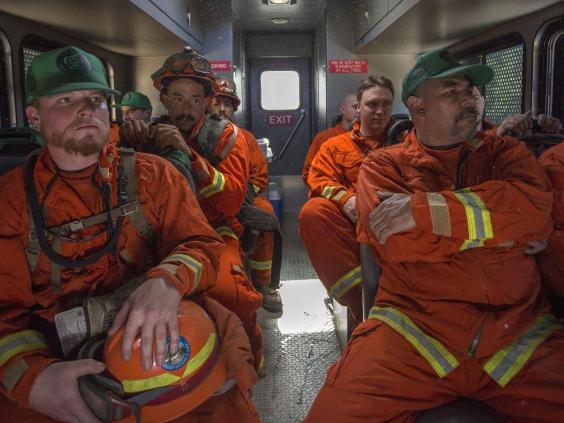 Prisoners have been brought in to help firefighters combat the blazes (DAVID MCNEW/AFP/Getty Images)
Thousands of prisoners have also been brought in to fight the raging fires, with around 3,900 prisoners enrolled in the programme to join firefighters in combating the inferno.
Those involved get extra time off their sentences and earn $2 (£1) a day and $1 (75p) for each hour of active duty.
MORE:


Devastating Wildfires Make California Landscape Look Like a Graveyard
Metro UK, 16 Oct 2017.

Horrific pictures show the devastating aftermath of the California wildfires as the death toll rises to 40.
The fire, which now stretches across 100 miles in northern California, is now ranked among the most destructive in the state's history.
Legendary goalkeeper dies after horrific collision with teammate during a match
Some 300 people remain unaccounted for, however officials remain hopeful they will locate most of those alive, while at least 5,700 homes and businesses have been destroyed.
Most of the deceased are believed to have died late on October 8 or 9 when the fires exploded and caught many people off guard.
Although many of the victims are elderly, the youngest is aged 14.


At least 40 people have died in wildfires (Picture: Justin Sullivan/Getty Images)





An aerial view of mobile homes that were destroyed by the Tubbs Fire (Picture: Justin Sullivan/Getty Images)





Homes destroyed from fires (Picture: Photo/Jeff Chiu)





A mobile home park devastated by a wildfire (Picture: AP Photo/Jae C. Hong)





An aerial view shows the devastation of a mobile home park (Picture: AP Photo/Marcio Jose Sanchez)



'It's a horror that no one could have imagined,' Governor Jerry Brown said, after driving past hundreds of 'totally destroyed' homes with Senators Dianne Feinstein and Kamala Harris.
No causes have been determined for the fires, though power lines downed by winds are seen as a possibility.
Although some evacuees were returning home in Mendocino County, the latest estimates were that about 100,000 people were under evacuation orders as the fires burned for a sixth day.
For those living in the huge fire zone, it was another night spent watching, waiting and fearing the worst.
John Saguto said he awoke several hours before dawn at his home east Sonoma to see flames 'lapping up' 300 to 500 yards away. He and his neighbours evacuated as firetrucks raced up and down the streets and hot embers flew over their heads.


A firefighter holds a water hose while fighting a wildfire Saturday, Oct. 14, 2017, in Santa Rosa, Calif. (Picture: AP Photo/Marcio Jose Sanchez)





A firefighter runs along a containment line while battling a wildfire Saturday, Oct. 14, 2017, in Santa Rosa, Calif. (Picture: AP Photo/Marcio Jose Sanchez)





Fire crews battle a wildfire Saturday, Oct. 14, 2017, in Santa Rosa, Calif. (Picture: AP Photo/Marcio Jose Sanchez)


.