Dust-Covered Vase in Loft Revealed to be £14m Rare Chinese Imperial Antique

Sellers Oblivious of Rarity and Value until Taking it to Sotheby's
Independent UK, 13 JUN 2018.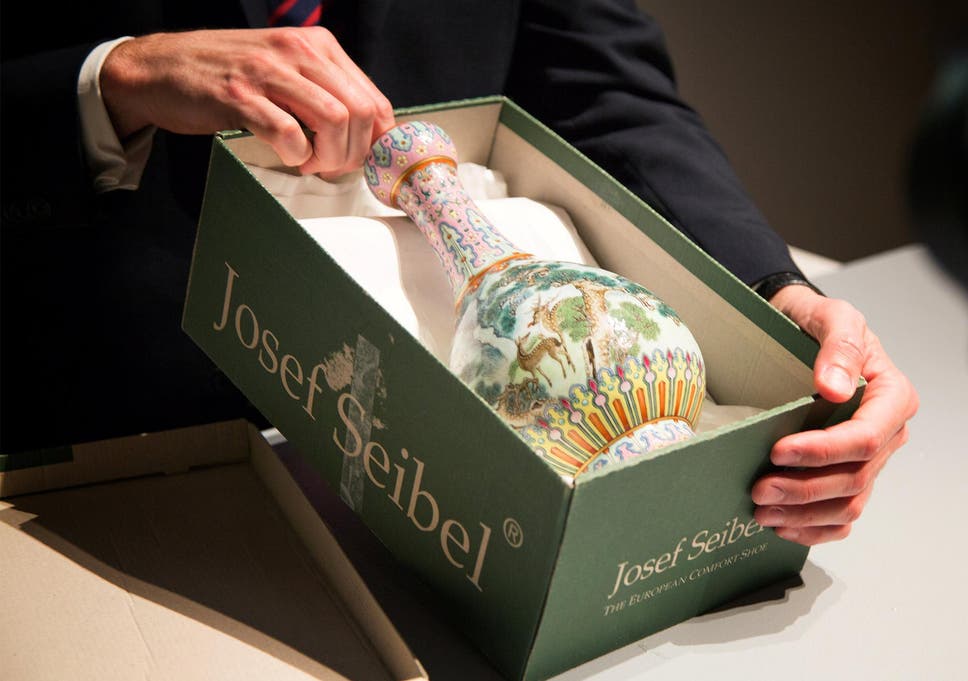 The antique was branded as being of 'extraordinary importance and rarity'
( SWNS )
A vase which has been accruing dust in a loft, sold for more than £14m at auction after it was revealed to be an eminent Chinese piece.

Olivier Valmier, a specialist at Sotheby's auction house, recognised the porcelain object was an Imperial 18th-century 'Yangcai' Famille-Rose porcelain vase which has a mark from the reign of the Qianlong Emperor after it was brought into the firm's Paris headquarters.
Discarded in the shoebox for decades, the vase had been left to the sellers grandparents by an uncle.
It was listed with the contents of the uncle's Paris apartment after his death in 1947, but the sellers were oblivious to the vase's rarity and value until they took it into the auction house.
Of "extraordinary importance and rarity", the antique was submitted into Sotheby's sale in France with a guide price of £430,000 to £610,000.
Bidding launched at €500,000 (£440,000) but auction-goers competed for the item and bidding rapidly hit €5m (£4.4m).
After it climbed to €12m (£10.5m), it was finally sold for €16,182,100 (£14.2m).
The vase, which is the only known example of its type, was produced by the Jingdezhen workshops for the magnificent courts of the Qianlong Emperor in the mid-to-late 18th Century.
It is highly rare for famille Rose - of "yangcai" - porcelains of the particular era to be sold publicly. Most examples are currently in the National Palace Museum in Taipei or other museums across the world.
The 30cm bulb-shaped vase is painted in shades of green, blue, yellow and purple. It has a body encircled by a landscape with deer, cranes and pine trees – all of which are emblems of health and longevity.
"They knew it had some value but nothing like that, nor that it was from the Qing dynasty," a Sotheby's spokesperson said.
The rare piece comes after a Famille-Rose porcelain bowl sold at Sotheby's Hong Kong for £21.7m earlier this year.
"Chinese art has been admired and collected across Europe for centuries, but the importance of certain pieces is occasionally lost over time," Henry Howard-Sneyd, Sotheby's chairman of Asian Art, Europe and Americas, said.
"Given the huge appetite for Chinese art among today's collectors, now is the moment to scour your homes and attics, and to come to us with anything you might find."