'Unluckiest Man in Australia' Bitten on the Penis by a Spider >>> For the Second Time
The Telegraph Sydney, 28 September 2016.


A venomous female Redback spider Credit: Alamy



A 21-year-old Australian has been labelled "the unluckiest man in Australia" after he was bitten on the penis for the second time in five months.
The tradesman said he was bitten by a redback spider while using a portable toilet at a work site.
It was his first visit to a portable toilet since his last encounter with a spider, he said, adding that the bite occurred on "pretty much the same spot".
"This one is a bit sorer - it seems like it got a better shot at it this time," he told Kiis FM Radio.
"It is a really sharp intense pain at the start… It's redder, a bit more swollen, it hurts a bit more. I got tetanus and antivenom yesterday."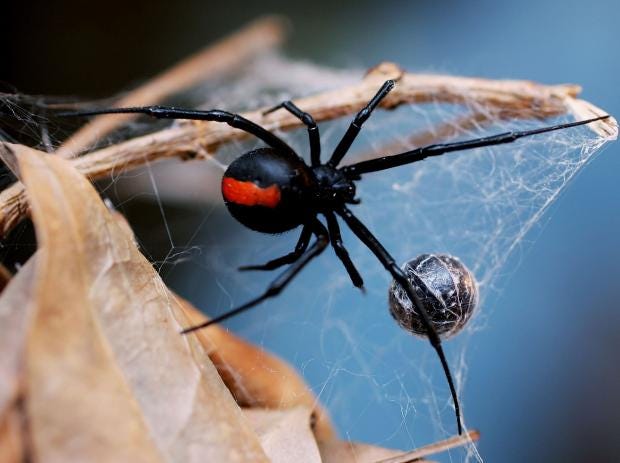 The victim said he was bitten on "pretty much the same spot" Getty Images An Australian builder has been bitten by a Redback spider on his penis – for the second time.
The spider bit the 21-year-old while he was using a portable toilet on a building site.
He said he was bitten in "pretty much the same spot " as before.
Jordan, who didn't want to reveal his surname, :
"I'm the most unlucky guy in the country at the moment.
"I was sitting on the toilet doing my business and just felt the sting that I felt the first time.
"I was like 'I can't believe it's happened again.' I looked down and I've seen a few little legs come from around the rim."
The twice-bitten tradesman had checked under both the toilet lid and seat before sitting down.
He added: "After the first time it happened I didn't really want to use one again.
"Toilets got cleaned that day and I thought it was my opportunity to go use one.
"Had a look under both seats and then I sat down did my business. Next thing you know, I'm bent over in pain."
Redback spiders, known for the distinctive red stripe on their upper abdomen, are native to Australia and are found across the country.
About 4,000 bites occur a year, including about 250 requiring antivenom.
The bites, which can cause intense pain, swelling and nausea, can be deadly but no fatalities have occurred since antivenom was developed in the 1950s.
Health authorities in the state of New South Wales confirmed to The Telegraph that the tradesman attended hospital this week.
The tradesman said the nurse at the hospital "started giggling" after he described his injury.
"They remembered me from the last time it happened," he said.
"Everyone was laughing, calling me the unluckiest man in Australia."
Asked how he felt about being bitten twice, he said: "I think I'm very unlucky, to be honest. I was in the wrong place at the wrong time."