Guinness Arrived in America 200 yrs ago This Month - We'll Raise a Pint to That!
Cheers to 200 Years - The Fascinating Story of Guinness in America...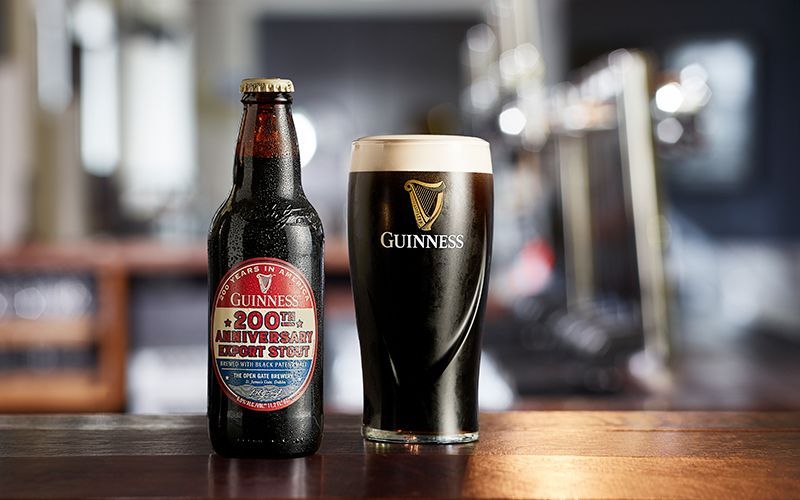 A tasty way to celebrate 200 years of Guinness in the US
Guinness has been in America for 200 years!
Here is the full history of the iconic Irish beer and how you can celebrate with the limited release Guinness 200 brew.

The story begins on 16 October, 1817 with a single line in a brewer's log. The handwritten note reveals the first eight barrels of Guinness beer – a porter to be exact – meant for America would make their arrival in South Carolina.
Ever since then, the bond between America and Ireland has continued to grow, from Irish immigrants searching for a better life to community leaders to, of course, Guinness and the countless pints – shared responsibly – with the people of the United States.
The anniversary this fall is a celebration of a 200-year love affair between a brewery and a people: Guinness and America.
There's no better time than now for the Guinness brand to say thank you to America by introducing the limited-edition Guinness 200th Anniversary Export Stout; bringing back a few favorite stout releases for a festive variety pack; and hosting a pair of public events in New York City and Los Angeles.
"Two things have always been at the heart of the Guinness brand since our founding in 1759: brewing great beer and sharing our story," said Emma Giles, Guinness Brand Director. "When we started brewing beer for America 200 years ago, that story became a shared one. Now, every time you share a pint with someone else, another chapter begins."
Guinness 200th Anniversary Export Stout is the latest beer created by the Open Gate Brewery – the pilot brewery located at St. James's Gate in Dublin – where Guinness brewers experiment with new styles and reinterpret historical brews. Inspired by a recipe Benjamin Guinness – the son of Arthur Guinness – originally developed in 1817, this beer is brewed with Black Patent Malt and Golding Hops and has a 6% ABV.
"We took a look at that export stout's recipe from 1817 in our brewing records and used that as our inspiration here, but it's not just an homage to who we were as brewers then or who America was as a country," said Peter Simpson, Head Brewer at the Open Gate Brewery in Dublin.
"We're also using this beer as a way to show how much we're looking forward to the next 200 years. We knew it had to be special, and we really think this throwback recipe captures exactly what we wanted from 1817 all the way through 2017."
This October, Guinness will also release its newest limited-edition Guinnes Draught cans, featuring artwork from the legendary Guinness ads from the 1930s and the 1950s that featured various zoo animals. Previous limited edition cans have featured the much-loved Guinness toucan and tortoise, among other works.
The 200 Years of Stout in America Mixed Pack – also on its way from Guinness – will bring back a few favorite stout recipes to add to the festivities.