By
Mark Milian
, CNN
June 30, 2011 7:26 a.m. EDT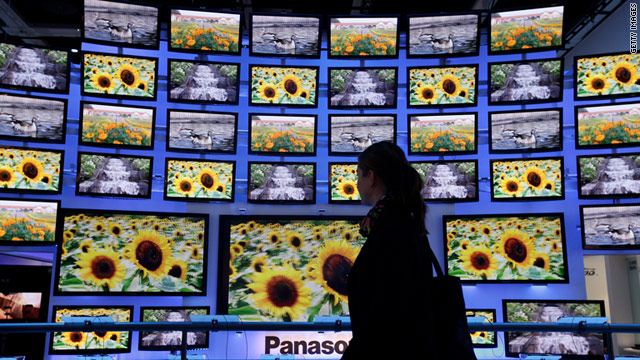 With 3-D, Internet connectivity and LED, the TV industry is struggling to find one technology that carries the same heft as HD.
Having recently traded in their chunky tubes for high-definition flat-screens, most consumers aren't finding a compelling new reason to go out and buy more TV sets.And that's starting to spell trouble for TV makers, who are just coming off their HD high.
Television manufacturers are thinking up all kinds of incentives and cramming a bevy of extras into their high-end product lines. In larger sets, three-dimensional viewing (with special glasses included), multimedia Internet features (using a built-in Wi-Fi chip) and bright screens with LED backlighting are quickly becoming commonplace.
A decade ago, the sales pitch for an HD, flat-screen, digital television was fairly straightforward: It opens up space in the living room, it's equipped for the national shift to digital broadcasting and the picture is sharper, see?
But to witness 3-D, a salesman hands the shoppers a pair of thick plastic glasses, usually attached to a string to prevent theft. The potential buyer frets over buying special glasses for everyone in the family, over having to buy a 3-D Blu-ray player and discs and over the motion sickness that some people experience when viewing 3-D entertainment.
That's an expensive, risky proposition, especially in a sputtering economic climate.
Conventional wisdom in the TV industry has been that 3-D would drive most new TV purchases now that HD sets have saturated the market. For confirmation look no further than the two most recent Consumer Electronic Shows, the annual industry spectacle in Las Vegas, where 3-D TVs have been hugely hyped.
Sure, more 3-D TVs are being bought versus last year, according to research firm NPD Group. But that's because 3-D is more affordable and more widely available than it used to be. In the United States, overall TV sales are up slightly, but revenue is flat, the study says. Globally, TV shipments are mostly flat, and demand appears soft, according to a report from NPD's DisplaySearch.
"The LCD panel industry remains in the midst of a secular slowdown that is likely to only deteriorate further over the next couple of years," Ticonderoga Securities analyst Brian White wrote in a recent report.
Still pinning hopes on 3-D
So now the top TV makers are starting to revise their game plans. As it turns out, 3-D isn't the big sales draw it was thought to be.
"Here's what we learned last year," said Mike Abary, a senior vice president for Sony Electronics' home division. "Three-D as a technology wasn't necessarily a primary driver for why a customer would want to buy a TV."
Even with that insight, TV makers aren't about to give up on 3-D. For Sony, 3-D is integral to the other parts of its business. For example, Sony Pictures can sell 3-D movies at a premium, and the company's gadget designers are thinking up crafty ways to package 3-D recording into digital cameras and camcorders.
So Sony and the other giants, including Samsung Electronics, have reduced the entry price for 3-D TVs, cut the cost of the glasses by about half and added the function to more models. In Samsung's case, about 60% of its lineup now includes 3-D.
Companies also are placing less focus on 3-D in their advertising campaigns.
"What customers are looking for is the best TV picture quality that they can buy," Abary said. "And if that TV happens to also have 3-D capability, that's just icing on the cake."
Great, but where will the TV industry's next savior come from?
Smart TVs to the rescue?
Abary is betting on bundled Internet platforms, sometimes called IP or "smart" TV, that provide access to Web-based services such as Netflix and Pandora. Sony offers TVs with the Bravia Internet Video software, and others with Google TV, which, by the way, "has not performed to our expectations," Abary said.
"Of all the technologies that have been introduced recently, we think that the game changer is probably the IP TV capability," he said.
Samsung says it has sold 2 million smart TVs worldwide, and more than half of customers make use of the Internet functionality. Vizio says 70% of customers connect their smart TVs to the Web. The rest may not be aware that it's built into the set.
But so many set-top boxes, from video-game consoles to dedicated, inexpensive Google and Apple entertainment units, already do the same thing. So consumers aren't exactly rushing to stores to buy all-new TVs just so they can get Hulu on the big screen.
(Does this seem like a sector that the high-margin-loving Apple would want to get into?)
Samsung is hoping the full package of 3-D, Internet, LED lighting and sleeker designs (e.g., thinner bezels) together will spur purchases, said David Das, the company's vice-president of marketing for displays. The recent softening of TV sales doesn't necessarily indicate doom, he said.
"When you look at the advent of HD or something like 120-Megahertz refresh rate or LED, many of those technologies did not exceed 1 million units" initially, he said.
But the HD advantage was clear and well-timed. Consumers in 13 large U.S. markets on average said LED, 3-D and Internet capabilities each aren't important drivers for replacing their TVs, according to a recent DisplaySearch study. Consumers showed very little interest in the features, with LED ranking slightly higher than the others, the study says.
Looking ahead, organic LED lighting produces even more vivid colors and viewing, while the ultra-HD standard, 4K resolution appears promising. But these technologies are still a way off from widespread adoption and won't necessarily be groundbreaking, said Ross Rubin, an NPD consumer-electronics analyst.
"There doesn't seem to be anything on the scale of HD in the foreseeable future," Rubin said.
So for now, perhaps the only compelling reason to replace a set is when the old one is on the fritz.