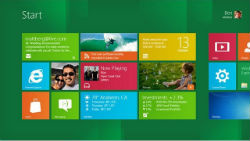 30 Oct 2012 15:36
The Microsoft chief had previously told of strong demand for Windows 8 (stronger than Windows 7 saw, apparently) since the new Windows revision was released to the public on Friday.
Today, Ballmer revealed that the company has sold four million upgrades for Windows 8, which suggests that there is indeed strong consumer demand for the product, despite some other reports suggesting a more muted reaction to Microsoft's flagship OS.
Ballmer told a meeting of software developers at the company's HQ that
"hundreds of millions"
of Windows systems will be sold in the next year, and that strong interest has been shown by business users.
__________________
Rock Out With DreamTeamDownloads1-The Best Place To Be For Downloads.
You Can Help the site If You Donate, Please Click Here:
DONATE
Thank You For Your Support & Membership To DTD1.