Apple Presses Pause on High-Def Music, says Neal Young
Updated 5:34 PM EST, Tue January 31, 2012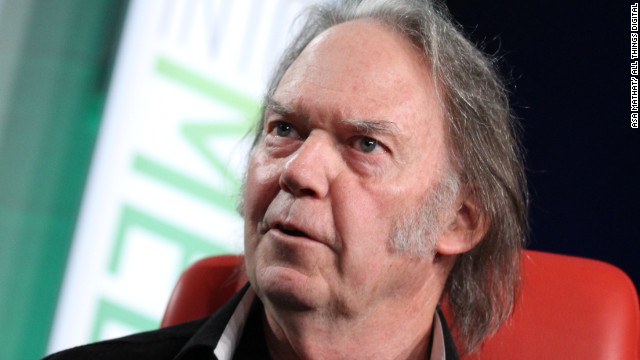 Improving the quality of digital music is a personal mission for Neil Young, who spoke at a media conference Tuesday.
Laguna Niguel, California (CNN)
-- Apple's ambition to improve the fidelity of music downloads has diminished since the death of founder Steve Jobs, according to singer-songwriter Neil Young.
Apple consulted with the influential musician, along with many others in the music industry, for a project to develop electronics and distribution channels for high-definition music, Young said in an onstage interview at News Corp.'s D: Dive Into Media conference Tuesday.
CNN first reported a year ago that Apple, along with other digital music retailers, were talking with executives in the record industry about selling high-fidelity tracks in iTunes and retooling iPods to be compatible with them.
Most music downloads are currently sold in either the MP3 or AAC formats, both of which compress sound in order to produce smaller files. Jobs was personally involved in the high-def initiative, speaking directly to Young about it, the 66-year-old musician recalled. Improving the quality of digital music is a personal mission for Young, who has evangelized for it before.
"Steve Jobs was a pioneer of digital music," Young said. "But when he went home, he listened to vinyl." However, "not much" has happened with Apple's high-def gadgets and downloads project since Jobs died in October, Young said. Jobs was a voracious consumer of music, with a special passion for the Beatles and Bob Dylan.
An Apple spokesman declined to comment. "My goal is to rescue the art form that I've been practicing for about 50 years," said Young, whose Rock and Roll Hall of Fame career spans six decades, from Buffalo Springfield to his rich solo career to his work with Pearl Jam and beyond. "The problem is that there's no alternative."
Industry-standard MP3 files have only about 5% of all the sounds that were contained in the original recording, which is called a "master." Because high-def music files are significantly larger, Young described a system that would allow the device to download it while the user is asleep.
Despite the availability of high-quality music sold by niche e-commerce websites, consumers so far have expressed little interest. Many musicians are embracing the idea of giving fans pristine recordings, often at a premium price. The Rolling Stones issued their first 27 records to one such store.
Record companies may like the idea of being able to repackage old albums at a higher price, but they surely weren't on board with all of Young's ideas. In the interview Tuesday, Young embraced illegal music downloads.
"Piracy is the new radio," said Young, whose music has long had a rebellious streak. "I look at the Internet as the new radio. I look at the radio as gone."