By
Katie McLaughlin
, CNN
updated 5:36 AM EST, Tue October 18, 2011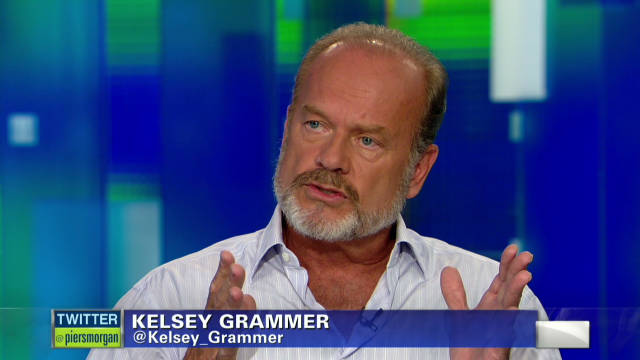 When Piers Morgan asked Kelsey Grammer whether he thought his ex-wife, Camille, married him because he was a TV icon, the actor said, "no, I think she married me because I was Frasier."The veteran actor is a guest on Monday's "Piers Morgan Tonight."
Grammer also told the CNN host that his "parting gift" to his third wife was her role in the reality series "The Real Housewives of Beverly Hills."
"Whether or not it worked well for her doesn't matter," Grammer said. "It was my way of saying, 'Look, you always wanted to be famous. Here you go.' "
Grammer told Morgan that while reality shows are not particularly a great way to become famous, "you still get attention; you still get all those things that come along for the ride, which I think is what she was most interested in."
After three tumultuous marriages in as many decades, the actor says he has at last found happiness and true love with his fourth wife, Kayte, whom he met on a flight from Los Angeles to London. She was a flight attendant for Virgin Atlantic, and Grammer described spotting her at LAX.
"There was a warmth, a glow about her that I was drawn to. And I thought, 'Boy, I hope she's on my flight.' "
The pair arranged to meet up for a first date on Christmas in London.
"It was magnificent," Grammer said. "There were lights everywhere."
When Morgan asked Grammer the secret to his long career in television -- particularly the long-running "Frasier" role -- the actor called it "a characteristic that can help you survive in television, which is a kind of affability and vulnerability. You allow yourself to be human."