By Carma Hassan, CNN
updated 9:11 AM EST, Sat October 15, 2011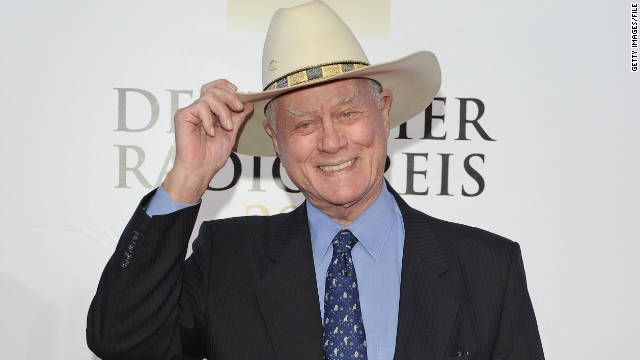 Larry Hagman attends an awards show in Hamburg, Germany, in September.
Actor Larry Hagman said Friday that he has been diagnosed with cancer, but noted "it is a very common and treatable form" of the disease.Hagman, who turned 80 last month, is best known for his role as J.R. Ewing, the son of a Texas oil tycoon on the primetime television series "Dallas," and as a dashing Florida astronaut living with a 2,000-year-old genie on the sitcom "I Dream of Jeannie."
In recent days he has been preparing for a stint on the remake of "Dallas" later this month.
"As J.R I could get away with anything -- bribery, blackmail and adultery," Hagman said. "But I got caught by cancer."
Hagman said he will receive treatment for his cancer -- the type of which was not disclosed -- while working on the new "Dallas."
This isn't the first health scare Hagman has faced. In 2003, he talked to CNN about his fight with cirrhosis and the 16-hour liver transplant in 1995 that saved his life.
Warner Horizon Television, TNT's television production branch, which is producing the "Dallas" remake, issued a statement Friday expressing support for Hagman.
"We look forward to watching Larry once again work his magic by bringing one of television's most interesting, complex and controversial characters back to the screen in the new Dallas series," the statement said.
The original "Dallas" series ran from 1978 to 1991.
"I could not think of a better place to be than working on a show I love, with people I love. Besides, as we all know, you can't keep J.R. down!" Hagman said.