Madge Meredith: Would-be Hollywood Star Imprisoned for Kidnapping Movie Mogul She Fell Out With
Humphrey Bogart was among supporters who believed the five-year jail sentence she served was for a crime that had been staged by her accuser
Independent UK, 16 Dec 2017.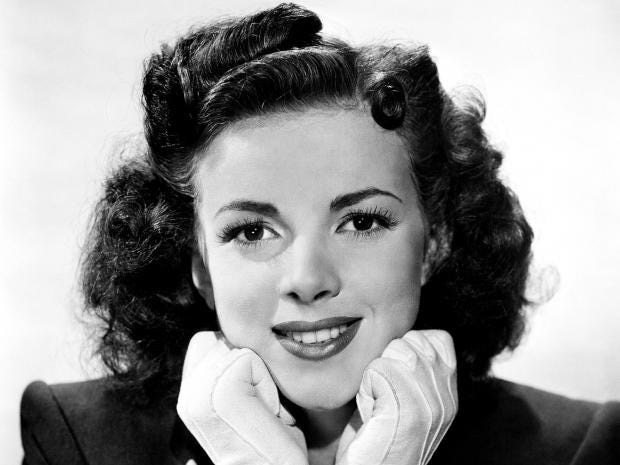 'I know in my own heart I'm innocent of any crime' Alamy
...


The true story of actress Madge Meredith, who died on 19 September at the age of 96, is every bit as compelling as the plots of the B-movies in which she made her name.
Born Marjorie May Massow in Iowa Falls, she overcame a stammer to win a scholarship to the Rice School of Theatre in Massachusetts.
Then, after a spell in New York, she headed for Hollywood. Her big break came when she was talent spotted while working as a cashier in the cafeteria at 20th Century Fox. On the condition that she get a nose-job, she was given a contract and her first small role in Phil Baker's 1944 comedy Take It Or Leave It.
In 1945, Marjorie Massow became Madge Meredith. With her career in the hands of a new manager – Nicholas "The Greek" Gianaclis – Meredith seemed set for stardom. A part in Randolph Scott's Western Trail Street was going to be her breakthrough. However before the film was released, Meredith and Gianaclis fell out over a property deal. Gianaclis evicted Meredith from a house he'd helped her buy in the Hollywood Hills. She subsequently successfully sued him for possession of the property. But within days of winning back the deeds to her home, Meredith was under arrest, after Gianaclis claimed she'd hired three hit men to kidnap both him and his bodyguard.
After a four-week trial, in front of a jury of 11 women and one man, Meredith and the hitmen she'd supposedly hired were convicted of two counts of kidnapping, assault with a deadly weapon and conspiracy. She was sentenced to five years. As she was sent to Tehachapi prison, she told the press "I know in my own heart I'm innocent of any crime."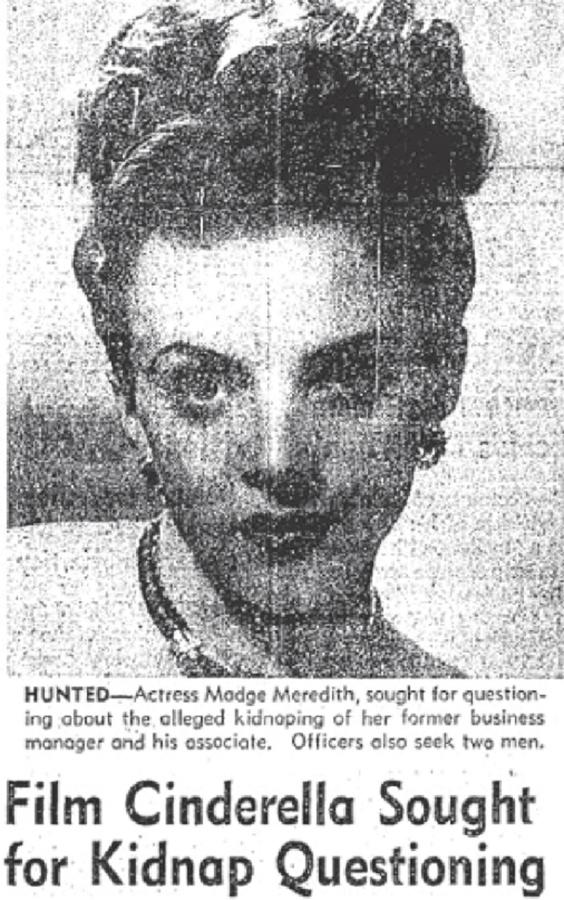 .
Humphrey Bogart believed her. As did fellow actress ZaSu Pitts, who began a letter writing campaign to have Meredith freed. Pitts's campaign attracted the attention of amateur sleuths, retired banker Herbert Schofield and Charles E Wilson, a retired real estate broker. They worked hard to unravel the truth of Meredith's case and in 1951, a breakthrough came when Meredith's co-defendant, Albert Turner, suggested that Gianaclis had staged his own kidnapping. He claimed married Gianaclis was motivated by thwarted "personal affection" for his actress client.
Meredith left prison on 15 July 951, her 30th birthday, having spent two and a half years inside. Reporting on her release the LA Times wrote, "She ran from the main entrance and refused to look back as the big chain link gates … clanged shut on the past…"
With his perjury revealed, Gianaclis lost his American citizenship. Meanwhile Meredith won back her house for a second time and returned to acting, gaining roles in The Rocco Case, To Hell and Back and The Ten Commandments among others. A credit on The Littlest Hobo marked her official retirement from acting in 1964.
Meredith devoted her retirement to fighting for fellow victims of injustice.
However she is thought to have appeared as an uncredited extra in Kevin Costner's 1995 sci-fi extravaganza Waterworld. The legendarily expensive feature was filmed in Hawaii, where Meredith made her home.
She is survived by her husband Mack Hatayama and their two children, a son and a daughter. Mourners at her funeral were invited to wear "Aloha attire".

Madge Meredith born 15 July 1921, died 19 September 2017, at the age of 96