Richard Hammond Crash: Jeremy Clarkson Gives Eyewitness Account Of 'Inferno' Crash
AP, 14 June 2017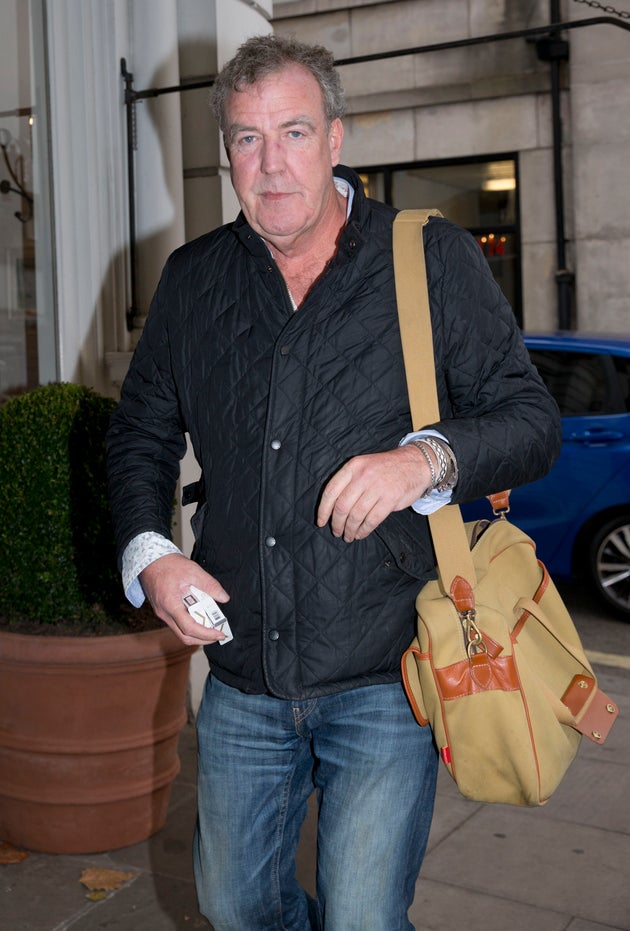 Jeremy Clarkson has shared his take on Richard Hammond's Switzerland car crash.

The duo were filming scenes for 'The Grand Tour' with fellow co-host James May on Saturday (10 June), when the Rimac supercar Richard was driving careered off the road, flipping multiple times before bursting into flames.
Luckily, Richard made it out of the vehicle before the fire started, but as Jeremy explained, the production team had no idea whether he was still in the car or not when they saw the blaze.
Writing on the trio's website Drive Tribe, Jeremy has now explained that he was first told of the crash via a walkie-talkie, and given the false information that it was a Lamborghini Aventador test driver that had crashed.
After arriving on the scene just 30 seconds after the news came through, Jeremy ascertained that "it was obvious from the skid marks what had happened".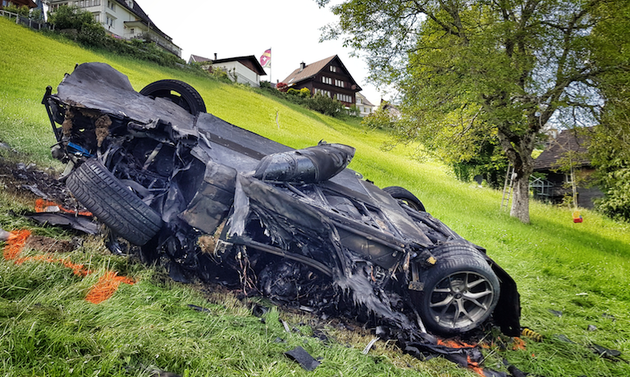 .

He'd lost it somehow on the final bend after the finishing line," he said. "And had plummeted down one bank onto a road lower down the hill, which had caused his car to flip.



"The big question was: had he managed to get out. No-one knew.
"And as I stood there, waiting for news, it dawned on me that the burning car was not yellow, as the Aventador was. It was white. Hammond's Rimac had been white.
"And I can feel it now; the coldness. My knees turning to jelly. It was Hammond who'd crashed."
Co-host James was next to arrive on the scene, and the duo soon realised Richard was being treated by paramedics, behind a screen.
"I could see the screen," Jeremy wrote. "I could see the paramedics behind it. I couldn't see Hammond. I didn't want to see him. Not after a crash that big.
"Our security man is made of sterner stuff and set off down the hill like a racing goat. I watched him arrive at the scene. I watched him intently.
"I saw him lift his walky talky and I heard him say, 'It's all right fellas. He winked at me'."
Richard has shared an update from his hospital bed
Richard was airlifted to hopsital where he is now receiving treatment for a fractured knee, and has since posted a video message to assure fans that he's fine.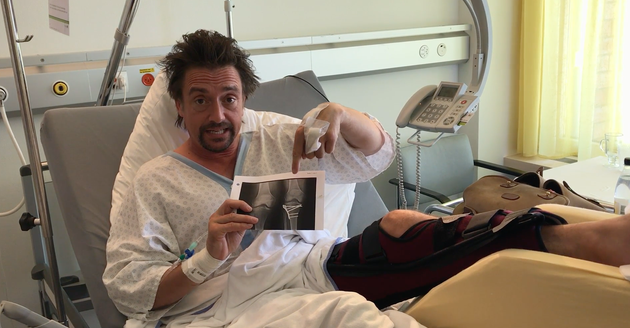 In a clip, recorded from his hospital bed, Richard joked he was getting a "Swiss Army Knee".


On a more serious note, he added: "I'd like to thank all the medical professionals who got me by air ambulance from the crash to this hospital, and have dealt with me ever since."