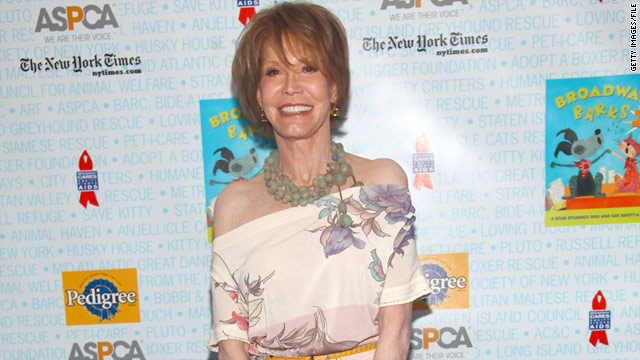 Mary Tyler Moore is being honored by the Screen Actors Guild for her exemplary career and charitable work.
Los Angeles (CNN)
-- Mary Tyler Moore, who "created a new paradigm for female leads in television," will receive the Screen Actors Guild Life Achievement Award next January, the actors union announced Thursday.
Moore's humanitarian efforts, which include being "a tireless advocate giving hope to all those afflicted with Type 1 diabetes," helped convince SAG to choose the actress for the honor, the union said.
She's already has seven Emmys, a Tony and one Academy Award nomination.
Moore, 75, first became an American TV comedy sweetheart at age 23 when she was cast as **** Van Dyke's wife in his sitcom. She earned two Emmys as the Laura Petrie in the show's five-year run.
On her groundbreaking "The Mary Tyler Moore Show," she played "a single, thirtyish, spunky, independent, career woman," the SAG announcement said. The show, which premiered in 1970, earned 29 Emmys during its seven-year run.
Moore's film career included the 1967 musical "Thoroughly Modern Millie," co-starring Julie Andrews, and Elvis Presley's last film, 1969's "Change of Habit," in which she was the leading lady.
Her Oscar nomination came in 1980 for her portrayal of Beth Jarrett in the Robert Redford's "Ordinary People."
She also acted on Broadway in the play "Whose Life Is It, Anyway?" Moore was given a Tony for role as a quadriplegic sculptor.
Moore's accomplishments also include forming a production company, MTM, with her then-husband Grant Tinker.
The landmark comedies and dramas produced by MTM include "The Bob Newhart Show," "WKRP in Cincinnati," "Hill Street Blues," "The White Shadow" and "St. Elsewhere."
Moore will be get the honor at the 18th Annual Screen Actors Guild Awards on January 29, 2012.