Mars Water? Curiosity Rover Finds Pebbles On Red Planet's Surface Likely Shaped By Ancient River
1 June 2013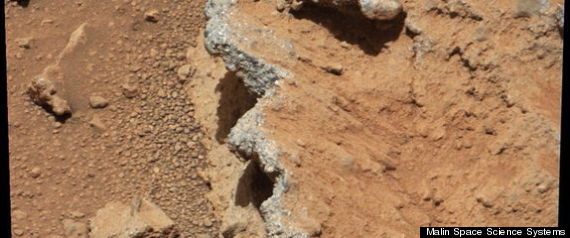 The Curiosity rover investigated an area on Mars named Hottah, which appears to be part of an ancient riverbed.


SPACE.com
Smooth, round pebbles found by NASA's Mars rover Curiosity provide more evidence that water once flowed on the Red Planet, according to a new study.The Curiosity rover snapped pictures of several areas with densely packed pebbles, and by closely analyzing the rock images, researchers discovered that the shapes and sizes of the individual pebbles indicate that they traveled long distances in water, likely as part of an ancient riverbed.
The rocks were found near Curiosity's landing site, between the north rim of Gale Crater and the base of Mount Sharp, a peak that rises 3 miles (5 kilometers) above the crater floor. [Photos: The Search for Water on Mars]
Round and smooth
Scientists divided a photo mosaic of an area called Hottah into smaller frames to study the small rocks, which were cemented together and ranged in size from 0.08 inches (2 millimeters) to 1.6 inches (41 mm) across. In total, the researchers examined 515 stones and noticed that their surfaces were round and smooth.
Rocks worn by wind are typically rough and angular, whereas stones in water tend to become smooth over time, as the rocks get churned around with coarse grains of sand.
"We could see that almost all of the 515 pebbles we analyzed were worn flat, smooth and round," study co-author Asmus Koefoed, a research assistant at the Niels Bohr Institute at the University of Copenhagen in Denmark, said in a statement.
The cemented sections of rock were likely formed by a combination of fine sand, mud, gravel and pebbles, the researchers said. This mixture clumped together and hardened, creating the solid formations seen by the Curiosity rover. Over time, as sand particles were blown across the surface of Mars, the tops of these cemented rocks became worn and flat, the researchers added.
Gale Crater
"The main reason we chose Gale Crater as a landing site was to look at the layered rocks at the base of Mount Sharp, about five miles away," study co-author Dawn Sumner, a geologist at the University of California, Davis, said in a statement. "We knew there was an alluvial fan in the landing area, a cone-shaped deposit of sediment that requires flowing water to form. These sorts of pebbles are likely because of that environment. So while we didn't choose Gale Crater for this purpose, we were hoping to find something like this."
The Martian pebbles offer tantalizing clues about Mars' aqueous past, said Morten Bo Madsen, head of the Mars research group at the Niels Bohr Institute.
"In order to have moved and formed these rounded pebbles, there must have been flowing water with a depth of between 10 centimeters (4 inches) and 1 meter (3.3 feet) and a flow rate of about 1 meter per second ó or 3.6 km/h (2.2 mph) ó slightly faster than a typical natural Danish stream," Madsen said in a statement.
Scientists have long been interested in the search for water on Mars in order to determine if conditions on the planet were ever hospitable for microbial life.
Although modern-day Mars is an arid place, there is substantial evidence that water likely flowed on the planet's surface several billion years ago. NASA's Spirit and Opportunity rovers, which both touched down on Mars in 2004, found signs of the planet's watery past.
In 2008, the agency's Phoenix Mars Lander confirmed the existence of current water-ice on Mars, after it scraped away clumps of dirt on the surface of the Red Planet.
The results of the new study show that Curiosity, which was launched in August 2012, has already achieved one of its main objectives: to investigate whether areas of Mars could have been habitable for ancient microbial life. The answer, apparently, is yes.......

McLaughlin Crater on Mars (3D View)
Credit: High Resolution Stereo Camera
(HRSC)/Mars Express/Freie Universitšt Berlin

This color image draped onto digital topography shows McLaughlin Crater in a 3D perspective, looking toward the east. Light-toned deposits on the crater floor contain alteration minerals that are overlayed by debris flows from Keren Crater, present on the south rim. McLaughin Crater once contained a lake that was likely fed by groundwater.




Signs of Possible Water on Mars at Newton Crater
Credit: NASA/JPL-Caltech/Univ. of Arizona

Oblique View of Newton Crater
Credit: NASA/JPL/University of Arizona]

These slopes on Mars, as photographed by the High Resolution Imaging Science Experiment (HiRise) on the Mars Reconnaissance Orbiter, may have been carved by saltwater that could run down the Martian surface each spring.


Impact Crater in Mars' Newton Basin

Credit: Science/AAAS
An impact crater in Mars' Newton basin shows lines that appear to have been carved by salt water. Four side panels show these lines in the late summer on Mars (B), then faded by the next very early spring (C), then gradually darkening and reforming in the spring (D) and summer (E).

Gully Gazing: Scientists Search for Flowing Water on Mars
Credit: NASA/JPL/University of Arizona

Crater edge in Terra Sirenum has been imaged by the High Resolution Imaging Science Experiment (HiRISE) camera on NASA's Mars Reconnaissance Orbiter. Gully watching thanks to repeat sweeps over the same landscape by orbiting spacecraft could catch gullies in action, if they are active today.




Mars Once Shuffled Its Icy Poles
Credit: ESA

Pockets of water ice on the southern pole of Mars, such as these, have been stopped from their once-routine migration by a cap of dry ice, or frozen carbon dioxide. Planetary scientists think the migrations was fueled by an eccentric wobble in Mars'tilt.




Hidden Glaciers Are Common on Mars
Credit: NASA/JPL-Caltech/ASI/University of Rome/Southwest Research Institute

The Shallow Radar instrument on NASA's Mars Reconnaissance Orbiter has detected widespread deposits of glacial ice in the mid-latitudes of Mars. This map of a region known as Deuteronilus Mensae, in the northern hemisphere, shows locations of the detected ice deposits in blue.




McLaughlin Crater on Mars (Annotated)
Credit: NASA/JPL-Caltech/Univ. of Arizona

An annotated look at the huge McLaughlin Crater on Mars, showing locations of minerals and clays created by water in the ancient past. The region may have once been a groundwater lake billions of years ago. Image released Jan. 20, 2013.



NASA Gives Frozen Mars Lander Last Chance to Phone Home
Credit: NASA/JPL-Caltech/University of Arizona
Stages in the seasonal disappearance of surface ice from the ground around the Phoenix Mars Lander are visible in these images taken on Feb. 8, 2010, (left) and Feb. 25, 2010, during springtime on northern Mars, by NASA's Mars Reconnaissance Orbiter.

Giant Pool of Water Ice at Mars' South Pole
Credit: NASA/JPL/ASI/ESA/University of Rome/MOLA Science Team/USGS

This radar map shows the thickness of the south polar layered deposits of Mars (purple represents the thinnest areas and red the thickest). The dark circle is the area poleward of 87 degrees south latitude, where MARSIS canít collect radar data.




Rivers Might Have Flowed Recently on Mars
Credit: NASA/JPL/GSFC/Malin Space Science Systems

In this perspective view looking at the inside rim of Lyot Crater on Mars, a broad lobate debris apron (left) (thought to be a debris-covered glacier) is found amongst water-carved channels. The authors argue that these ice-rich units underwent melting in the relatively high-pressure environment provided by Lyot Crater, the deepest point in the northern hemisphere of Mars.




Flashback: Water on Mars Announced 10 Years Ago
Credit: Science

The floor and banks of a Mars gully on the northwest wall of a crater in Terra Sirenium changed between December 2001 and April 2005 due to a distinct light-toned material that flowed down the slope and formed a deposit (top). The same change occurred in a crater in the Centauri Montes region (bottom).




Water Flowed on Mars More Recently Than Thought

Credit: NASA/JPL/MSSS
Melting glaciers spawned rivers on Mars as recently as several hundred million years ago. This image shows a river that sprang from a past glacier from an unnamed crater in Marsí middle latitudes.
Young Mars Crater Contains Water Ice, Photo Shows

Credit: NASA/JPL-Caltech/University of Arizona
At the center of this view of an area of mid-latitude northern Mars, a fresh crater about 6 meters (20 feet) in diameter holds an exposure of bright material, blue in this false-color image.
Study Suggests It Rained on Ancient Mars

Credit: ESA/DLR (E. Hauber)
The picture shows a topographic map of a crater in the Xanthe highlands, which held a lake 3.8 to 4 billion years ago. Sediments were deposited in the lake, forming a distinctly shaped delta. The lake was fed by a river that flowed through the Nanedi valley and into the crater from the south.

Study: Mars Had Drizzle and Dew
Credit: NASA

Cracks caused by the contraction of sulfate are evident in this image of the surface of Mars' Meridiani Planum site by NASA's Opportunity Rover.

Signs of Underground Plumbing Seen on Mars
Credit: NASA/JPL-Caltech/Univ. of Arizona

Dense clusters of crack-like structures called deformation bands form the linear ridges in this Mars image from the High Resolution Imaging Science Experiment (HiRISE) camera on NASA's Mars Reconnaissance Orbiter.



McLaughlin Crater on Mars by MRO Spacecraft
Credit: NASA/JPL-Caltech/Univ. of Arizona

This view of layered rocks on the floor of McLaughlin Crater shows sedimentary rocks that contain spectroscopic evidence for minerals formed through interaction with water. The High Resolution Imaging Science Experiment (HiRISE) camera on NASA's Mars Reconnaissance Orbiter recorded the image. Image released Jan. 20, 2013.

Oceans of Ancient Mars May Have Sprung From Slow Leaks
Credit: G. Di Achille

The ancient oceans or seas thought to have covered ancient Mars 3 billion years ago, as shown in this artist's rendition based on actual topography of Mars from NASA Mars Orbiter Laser Altimeter, may have sprung up through surface cracks.




Mystery Solved: Mars Had Large Oceans
Credit: Taylor Perron/UC Berkeley

A view of Mars as it might have appeared more than 2 billion years ago, with an ocean filling the lowland basin that now occupies the north polar region.




New Map Bolsters Case for Ancient Ocean on Mars
Credit: Wei Luo, Northern Illinois University

This is a global map depicting the dissection density of valley networks on Mars, in relation to the hypothesized northern ocean. Two candidate sea levels are shown: contact 1 with mean elevation at -1,680 meters and contact 2 with mean elevation of -3,760 meters