Florida volunteers attempt to rescue 22 beached pilot whales
US officials and volunteers take part in a huge rescue operation after a pod of 22 pilot whales were found beached in Florida.
2nd Sept 2012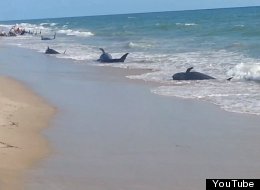 The pilot whales came ashore on a South Florida beach, triggering a daylong effort by state and national officials, residents and others to save them.

By Saturday evening, five pilot whales - two calves and three juveniles - had been transported to Florida Atlantic University's Harbor Branch Institute for rehabilitation.
The rest had died of natural causes or had to be humanely euthanised, said Allison Garrett, a spokesperson for the National Oceanic and Atmospheric Administration's Fisheries Service.
Ms Garrett offered a possible explanation as to why the whales became stranded.
"Typically, if one animal is not well, they will follow the others to .... they will come into shore and the others will follow suit," she said.
Residents came to the beach to assist with the rescue, helping the animals turn upright so they could breathe better.
Volunteers covered the whales with moist towels and poured water over them.
Ms Garrett said there was no obvious sign of trauma or injury to the whales, but that autopsies would be performed on them.
She said officials and volunteers spent the day assessing the health of the whales to see which could be rehabilitated, and then making the others comfortable.
The last such beaching in the area was in May 2011, on the Florida Keys, according to the spokesperson.
END
What a co-incidence eh? the same day and many whales are beached in different parts of the world because of maybe the same illness??
It is just heart breaking to see this.