More Than Three Dozen UK Military Dogs Put Down Over The Last Year

'These Animals Have Bravely and Innocently Served our Country', says Tim Farron
Independent UK, 28 Feb 2018.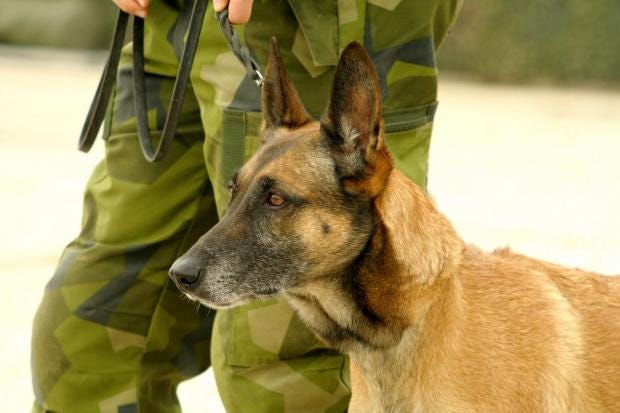 New figures released by the Ministry of Defence show 38 military working dogs were euthanised between March and December last year. Getty Images
..
The "cruel" treatment of military dogs has been criticised by a senior MP as it emerged dozens have been destroyed over the past year.
New figures released by the Ministry of Defence show 38 military working dogs were euthanised between March and December 2017.
Of these six were put down due to their dangerous temperament, with a further six destroyed because of "failing to maintain standards".
Defence Secretary Gavin Williamson said every effort was made to rehome the dogs, with more than 600 having been rehomed since 2013.
Former Liberal Democrat leader Tim Farron, who obtained the figures through a written parliamentary question, said: "This shows that too many former military dogs are still being put down each year. Not enough effort is being made to rehome them.
"These animals have bravely and innocently served our country, protecting our service men and women and saving countless lives.
"Surely we owe it to all former service dogs to look at other options like detraining programmes before they are put down.
"This is such a cruel way to behave towards animals that have given so much."
In his answer to Mr Farron, Mr Williamson said the term "failing to maintain standards" was based directly on veterinary records and could include a combination of welfare and behavioural issues.
Five further dogs were put down due to age or welfare concerns, he said, while the remaining reasons for euthanising the animals included a wide range of medical conditions.
Tod Bradbury, a campaign manager at charity Animal Aid, said: "Whilst it is pleasing to see that many ex-military dogs have been re-homed, it is also alarming to see so many euthanised for reasons such as 'failing to maintain standards', which can include 'behavioural issues'.
"These dogs are paying the price for being trained to be aggressive. And whilst these animals are often purported to be 'heroes', once their working lives are over they are often disposed of.
"Whilst Animal Aid would prefer that no animals be used in warfare, we believe that – where possible – all 'working' dogs and animals should be restored to good mental and physical health, rather than killed out of convenience, and we hope that the MoD commit to doing just that."
Previous figures released to Parliament showed that in 2015/16, 79 military dogs were destroyed, including 40 which were judged unsuitable for re-homing.
More than 100 military working dogs have been rehomed every year since 2013, including 121 last year, according to the figures.
Mr Williamson stepped in late last year to save two retired Army dogs which faced being destroyed because they were too aggressive to rehome.
He said: "Military working dogs provide an invaluable service to our troops, and every effort is made to rehome them at the end of their service life.
"Decisions are taken following an extensive assessment of the dogs and any potential new home.
"Sadly, there are some occasions where it is not possible to rehome, for example when the dog poses a risk to public safety.
"In such cases decisions are taken following a full assessment by military veterinarians and dog behaviourist experts."