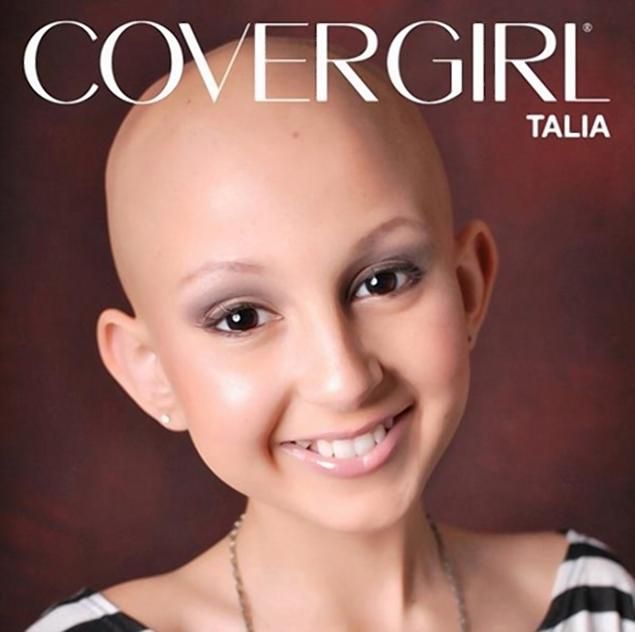 TALIA CASTELLANO'S STORY
Talia Joy was an honorary CoverGirl and was beloved by fans for her bubbly personality and insightful make-up tutorials. She died of cancer July 16.
She gave her fans beauty, and now her fans are doing something beautiful in return.
Talia Joy Castellano made a bucket list full of things she wanted to do, from jumping in a pool of Jell-O to covering a car in sticky notes, and though the 13-year-old beauty blogger and honorary CoverGirl tragically lost her battle with cancer earlier this month, her many fans have taken it upon themselves to carry out her list of things she wanted to do before dying.
After her death, fans began posting photos of things the Orlando, Fla., resident had hoped to do, including "get a tattoo" and "have a huge water balloon fight," accompanied by the hash tag #taliasbucketlist.
Her family had posted the bucket list — full of Talia's wants and wishes scrawled in her girly handwriting — only five days before her death.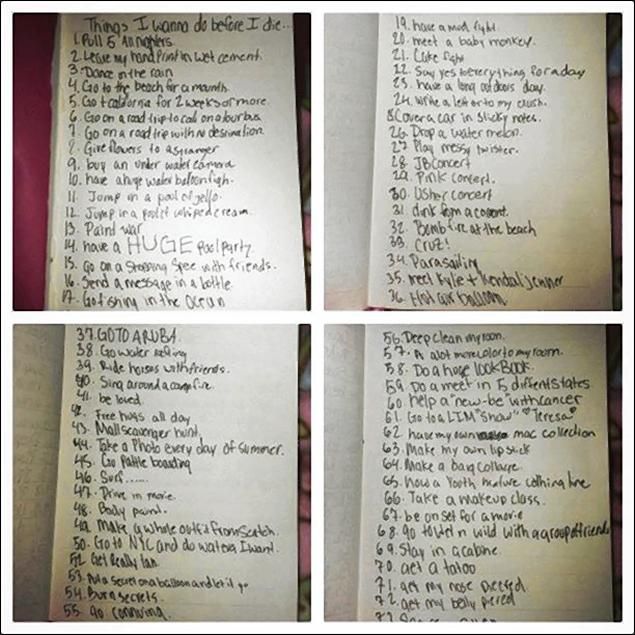 Talia scribbled her bucket list days before her death: It includes 'get a tattoo' and 'go to Discovery Cove.'
Talia's mother, Desiree Castellano, told the Daily News that the support from fans has been overwhelming. "It touches my heart," she said.
Hundreds of fans inspired by the girl's plucky spirit and innovative makeup tutorials took it upon themselves to get through the lengthy list.
"She didn't get the opportunity to fulfill her own bucket list," Talia's mother, 52, said through tears.
Quote:
"I think the world understands how precious life is, that we should live each day and do the thing that makes us happy, and don't take anything for granted."



In everything Talia did, her mother said she was a visionary, but also a stubborn perfectionist. "She was self-taught," Castellano said."She taught herself how to do make-up, she was up until 4 o'clock in the morning editing all her videos, wanted advanced lighting equipment. She said, 'Mom, I have to have the best.'




Talia's unique makeup tutorials earned her a loyal following on YouTube.
Her sister, Mattia, posted an emotional video to YouTube following her younger sister's death. "All that matters is that me and my mom were by her side the whole time. The last faces she saw were me and hers (sic)."
Mattia, through steadying breaths, said, "Her name will live on," adding that she would take it upon herself to carry out Talia's dreams of having her own make-up and clothing lines.
Their mother, too, is hoping to make Talia's visions a reality. The family is currently working on getting a base camp make-up station in every city where there's a children's cancer center.




Talia Castellano during an outing she took to Discovery Cove, where she swam with dolphins.
Castellano said that it was Talia's infectious personality and talent that landed her a spot on "The Ellen DeGeneres Show" after a series of interviews, Skype calls, and questions.
"The producers wanted to see if taliajoy18 was still taliajoy18 on camera," Castellano said. "She captivated the whole world."
Ellen DeGeneres, who invited Talia on her talk show after seeing her inspiring YouTube videos, has expressed grief over the young girl's passing.


"I'm grateful for the time I got to spend with this beautiful young girl," she wrote earlier this week, posting a photo of her and Talia backstage at "The Ellen DeGeneres Show."
Talia's mother told the News that they're still in the early stages of grieving. "We just sit around and talk about how funny Talia was and laugh at how talented and beautiful she was. She loved so deeply."