As
waters rise
on the Mississippi River, we're seeing iReporters take to the skies to show us what's going on at different spots along the river and gauge the extent of the flooding.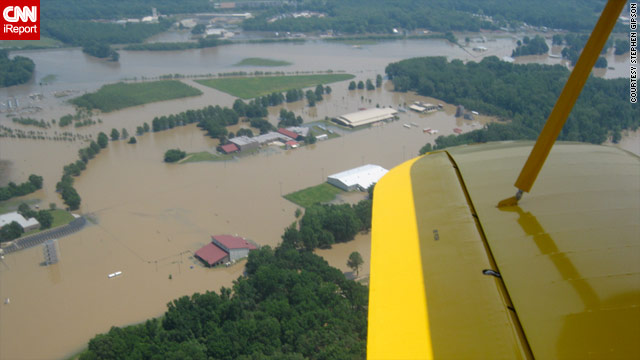 Physician and pilot
Stephen Gipson
of Memphis, Tennessee, has been perplexed by the waters rushing through parts of town. His aerial images show how water has overflowed the river and rushed into places it shouldn't be. He shot
one set
of photos on May 5, and then sent another on
May 9
. By then, there was a lot more water to be seen. The photos revealed waterlogged homes, buildings and fields. Gipson says at the airport he took off from, the water table seemed high and he could see water coming up through some cracks in the ground.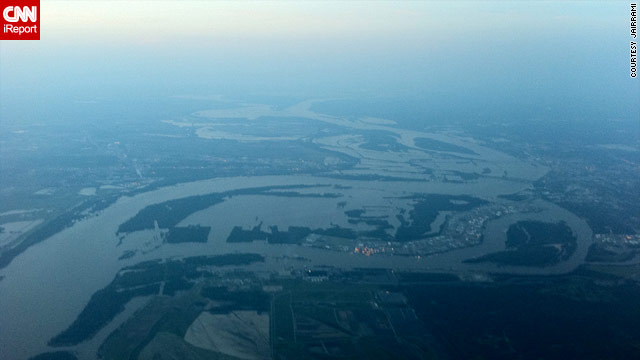 We also heard from
jairrami
, another frequent-flying iReporter who shared images taken from a
plane
above Memphis. (He asked us not to share his name.) He says he's traveled through the region before and this time, the
snaking river
reached out much further from its banks.
"I've never really seen that much flowing through that area before," he said.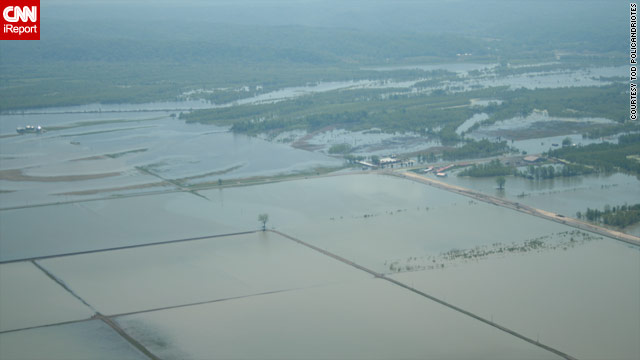 Further up the river,
Tod Policandriotes
, a scientist at Southern Illinois University Carbondale,
went up with his pilot instructor friend
to get a look at the scene below on May 8. As for what awaited him in the sky, Policandriotes says he was amazed at how much water was flowing through the Mississippi River. Upon departing from Carbondale, Illinois, he could get a good view of the flooding in Metropolis and the areas where levees were blown near Cairo.
"I saw massive flooding all along the Mississippi on both sides from Grand Tower to just below Cairo, Illinois, and in through Metropolis. Along the Ohio River, the flooding does not seem to be quite as bad, but it is still flooded in many areas. Where the levees were blown, near Cairo, water is spread as far as I could see on the Missouri side at 2,000 feet altitude."
These up-high views give you a feel for what this flooding really means.
__________________