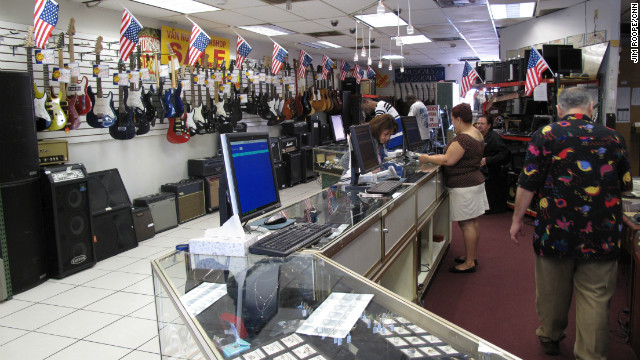 The Van Nuys Pawn Shop in Los Angeles is seeing an increasing number of customers turn to it for short-term loans.
For years, pawn shops have had a seedy and hopeless connotation: people pawning items for short-term loans because they canít get a loan from a bank or donít qualify for mainstream credit. But over the past five years or so, pawn shops have had a whole new light shed on them.
In this down economy, especially with high credit-card and bank-loan interest rates, pawn shop business is up. Pawn popularity also is up because of reality shows like the History Channelís "Pawn Stars."
"Pawn Stars" features the Gold and Silver Pawn Shop in Las Vegas and its owner, Rick Harrison, who says pawning is banking at its most basic. "You give collateral on a loan; (if) you donít pay it back, you lose your collateral, and thatís the end of it," Harrison said. "There is no turning you into a credit reporting agency. Thereís no suing you, no garnishing your wages. Itís just that simple."
Cesar Salgato, manager of Van Nuys Pawn in Los Angeles, says that over the past four or five years, his business has increased 60%. "A lot of the middle class and upper middle class is starting to pawn," Salgato said. "It's incredible, the amount of money that goes out for meeting mortgages and meeting payroll."
Stacey Simons is a real estate broker who was pawning collector plates. "I needed the money," Simons said, giggling. "Times are tough, and I needed the money." Simons is a regular customer at Van Nuys pawn. "This, you can pay every three months. There's a little bit of a fee, and they keep your item, and when youíre ready to get it back, itís there for you, and it's not damaged," Simons said.
According to the National Pawn Brokers Association, there are 13,000 pawn shops in the United States, and they conducted 30 million transactions last year. The fees are regulated state by state, but there are federal regulations by which pawn shops must operate. The fees or interest rates can be relatively low.
ďOn a $1,000 loan, for the first 90 days, you only pay $70," Salgato said. "After 90 days, it goes up slightly to $110. So if you divide that by the four months, itís a small amount."
Still, pawn shops can charge much more. In New York, pawn shops can charge up to 4% per month in interest, which would come out to a 48% APR. Pawn shops in other states can charge up to 25% per month, Harlow reported.
According to the National Pawn Brokers Association, 80% of people who pawn return to recover their items.