By Alison Schwartz
Tuesday September 06, 2011 08:00 AM EDT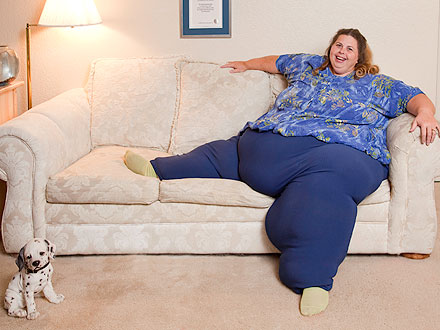 Pauline Potter
It's the small things – like driving a car, dancing, getting dressed in the morning and checking the mail – that Pauline Potter thinks about on afternoons when she stays in bed and listens to the world just beyond the walls of her bedroom in Sacramento, Calif.
"Everything people take for granted – those are the things I dream of," she tells PEOPLE. "I'm not living. I want more."
But getting more out of life will require Potter, who holds the Guinness World Record for heaviest living woman, to weigh less.
Potter weighed 643 lbs. as of February 2011, which qualified her to be included in Guinness World Records list for 2012, although she thinks she weighs closer to 700 lbs. today. (According to Guinness World Records, the heaviest woman ever is Rosalie Bradford, who registered a peak weight of 1,200 lbs. in January 1987.)
She realized the title is "a little degrading," but Potter, 48, is sharing her story because she's desperate. When the 2012 edition of the records book is released this month on Sept. 15, she's hoping somebody will read about her and offer to help her become healthy.
Maybe a doctor or a nutritionist will reach out, she says of her hope, and she's even open to talking to other people who need help, too.
"I don't like people to think bad of me, but I'm willing to risk that to get the help," she says of her weight-loss aspirations. "I have a lot of love to give, and I want to be able to help others, but I need a little help right now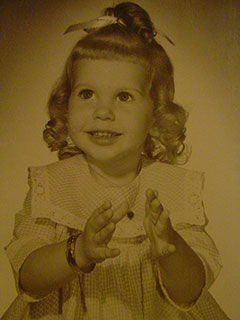 Pauline Potter as a child.
She can talk about the people who lean out of their cars, cell phones in hand, to take pictures of her when she passes by. She remembers a particularly hurtful day when she was shopping at Walmart and a mother whisked her young daughter away in the opposite direction like she was "contagious or maybe retarded," Potter says.
"I still hurt. I still bleed," she says. But the cruelty is matched by kindness, and she can also talk about the people who hold doors open for her when she enters stores and the people who say hello when she passes them in her electric wheelchair.
Potter says she has struggled with her weight since she was 8 years old. She refers to herself as a "compulsive eater," who was 400 lbs. when she gave birth to her son, Dillon, now 19. But her struggle often feels like a contradiction, she says, because "I really do have a great life."
For now, she's focused on her goal: making that great life better. "I can't let it go anymore," she says. She wants to get her nursing degree and go on a bike ride with her son. She'd like to go to the movies one day and be able to fit in the theater's chairs.
"I have let my weight hold me back on so many things," she says. "I let it hurt me."
She adds: "I just need a little push."