Man`s eye is saved after impalement.
By
Elizabeth Landau
, CNN
August 31, 2011 5:32 p.m. EDT

Man impales eye socket with shears.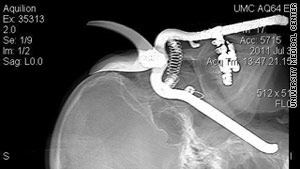 This CT scan shows the handle of garden shears lodged in Leroy Leutscher's skull.
Doctors had never seen a case quite like it: An 86-year-old man showed up at the hospital with the handle of a pair of pruning shears stuck in his eye socket.Amazingly, the man made it through this accident with his vision almost intact. His medical team, including surgeons who also treated Rep. Gabrielle Giffords after she was shot in the head in January, removed the shears and reconstructed the eye socket.
Leroy Luetscher of Green Valley, Arizona, had been working in his yard July 30 when the accident happened. He thinks he may have dropped a pair of pruning shears and fallen face-first onto the handle when he went to retrieve them. The handle drove into his eye socket and down into his neck.
"There was just blood all over," Arpy Williams, Luetscher's girlfriend, said Tuesday, according to CNN affiliate KOLD. "I saw this instrument in his face, and I just said, 'Leroy, honey, what have you done?' "
KOLD: Doctors: Man will retain sight despite pruning shears impalement
Luetscher was taken to University Medical Center's Level 1 Trauma Center in Tucson, Arizona. Surgeons had no idea how much the eyeball had been damaged; they couldn't even open his eyelid, oculoplastic specialist Dr. Lynn Polonski told CNN.
"This object was fixated to his face. It did not move, and we could not move any of the tissue around his face," Polonski said.
Luetscher didn't seem to have any mental status changes, which was a good sign, Polonski said. And he could sense light when it shone on him, letting doctors know he still had some vision.
Rather than just pulling the shears out, the surgeons decided to make an incision from his upper gum line on the right side of his upper lip to the anterior maxillary wall, which is in the middle of the cheek.
When they cut into the wall, they could clearly see the handle. Polonski was able to loosen it with his finger and a tong-like instrument called Kocher forceps.
Once the handle was loose, doctors could remove the entire handle from the face.
It turned out that the handle had compressed the eyeball in and pushed it up in the socket (think about squeezing a rubber ball), but it remained attached. Luckily enough, the eyeball was not ruptured or lacerated.
The next step was reconstruction. They removed some of the loose bone fragments from the eye socket and then placed a titanium mesh plate to help reconstruct the orbital rim and floor.
This is the same kind of plate that surgeons used in repairing Giffords' skull after she was shot in the head in January 2010, said Polonski, who also treated Giffords. That was a distinct operation, however, because Giffords also required a neurosurgeon to perform a craniotomy.
"This was a little bit different because it's on the inferior orbit, so what's underneath me is sinus, not brain," Polonski said of Luetscher's case. "But hopefully, both will have a really good outcome."
Luetscher was discharged four days later and has not been hospitalized since. Doctors waited a few weeks after the surgery to see how he was doing before presenting the case to the public.
"He's doing quite well for that significant kind of injury," Polonski said.
Luetscher still has some slight swelling in his upper and lower lids, and minor double vision in the eye that the shears penetrated. The muscle that allows for downgazing was traumatized, so Luetscher has problems moving his eye downward, Polonski said.
Surgeons may still need to do a little more work because he traumatized the muscle underneath the eye, in addition to his lower eyelid skin and muscle, Polonski said. They are waiting for the scar tissue and inflammation to go down to see what else needs to be done.
"The swelling is going to take a little more time to resolve, but he seems to be a very happy kind of guy," Polonski said. "I think he's very pleased at how well he's done."