Indonesia Official Decries Australia PM's Asylum Boat Stance

JAKARTA, Indonesia (AP) — An Indonesian official on Friday criticized Australia's prime minister as "unethical" for sidestepping allegations the Australian navy paid the crew of a boat carrying 65 migrants to return to Indonesian waters.
Indonesia's foreign ministry has said it is "very concerned" by a report from police in East Nusa Tenggara province that the boat's captain and five crew members detained on remote Rote island had about $30,000 in cash. The group said they were paid to return the migrants to Indonesia after being intercepted by an Australian navy ship on May 20.
Australian Prime Minister Tony Abbott did not deny the payment claim in a radio interview Friday. He said border officials are being "incredibly creative" in coming up with responses to human trafficking.
Agus Barnas, spokesman for Indonesia's coordinating ministry for political, legal and security affairs, said Abbott's comments could be interpreted by Australian officials as endorsing bribery and might encourage people smuggling.
"His statement is very unethical," Barnas said.
The sharp rhetoric from Jakarta is the latest flaring of tension over Australia's policy of turning back and refusing to settle any migrant who arrives on its shores by boat. Migrants escaping poverty or oppression use Indonesia as a transit point for the perilous journey in often barely seaworthy vessels to Australia.
Abbott also dodged questions about the allegation during a subsequent news conference. Asked whether the government had paid people smugglers to turn back boats, he replied,
"We've used a whole range of measures to stop the boats because that's what the Australian people elected us to do."
Australian opposition lawmakers jumped on the controversy, accusing the government of creating an incentive for people smugglers.
Such people "should be facing prosecution with the full force of the law, not be put in a situation that when they turn up aside an Australian navy vessel, they are in effect next to a floating ATM," said Richard Marles, immigration spokesman for the opposition Labor Party.
The allegation comes as Southeast Asia is embroiled in a broader migrant crisis. Rohingya Muslims fleeing persecution in predominantly Buddhist Myanmar and Bangladeshis looking for a better life abroad have landed in Thailand, Malaysia and Indonesia.
Indonesian police said the boat was carrying 65 migrants, mainly from Sri Lanka and a fewer number from Bangladesh, and was attempting to reach New Zealand. A pregnant woman and children were among those on board.
According to the account given to police by the detained crew, their vessel was boarded off Christmas Island in Australian waters by a navy officer who spoke Indonesian and negotiated their return to Indonesian territory.
Australian authorities provided two different boats along with enough fuel and food to return to Indonesian waters, the crew said, according to police.
Christmas Island is 1,090 kilometers (675 miles) southwest of Rote island in central Indonesia.
___
Associated Press writer Kristen Gelineau in Sydney contributed to this report.


UPDATE:
Aussie Spies May Have Paid People Smugglers
The Daily Telegraph AU, 15 June, 2015

Foreign Minister Julie Bishop denied last week that the payment had been made.

AUSTRALIAN spies may have been involved in paying people smugglers to turn their boats around as part of a classified* operation to disrupt their movements, a senior intelligence* source revealed.

Labour is demanding the government confirm or deny reports that Australian navy officials recently paid people-smugglers to return a boat to Indonesia.
However, a senior intelligence source has told The Daily Telegraph that Australia's foreign intelligence service ASIS had been engaged in covert disruption and intelligence operations which may have involved such payments.
Quote:
"So we should certainly be hearing from the Prime Minister as soon as possible: What actually happened?"
"Put it this way, the navy doesn't have authorisation to do such things nor do they sail around with safes full of US dollars in them," the source said.
"But for obvious and good reasons, we don't talk about operations of that agency."
The opposition has demanded answers from the government over reports that a boat crew had been paid $30,000 to turn around. They were arrested by the Indonesian navy and are now believed to be facing prosecution for people-smuggling offences.
The Indonesian government is also demanding an explanation.
Tony Abbott hinted at spy involvement.
But Prime Minister Tony Abbott has refused to confirm or deny the reports, sticking to a longstanding practice of not commenting on operational matters.
Senior government sources conceded it had been politically unhelpful that immigration minister Peter Dutton and foreign affairs minister Julie Bishop had last week both answered "no" when asked if the payment had occurred.
Opposition immigration spokesman Richard Marles yesterday said Australians had the right to know whether the reports were accurate.

"One of the real problems ... is that all of this is happening under a shroud of secrecy," Mr Marles said.

"It's not really for any national security reason. It's effectively a media strategy and it denies the Australian people the ability to apply scrutiny to a matter which is very much in the public interest.
"So we should certainly be hearing from the Prime Minister as soon as possible: What actually happened?"
Mr Abbott last Friday hinted at the possible involvement of national security agencies, rather than the navy or Immigration and Border Protection. ASIS operations are classified.
"There are all sorts of things that our security agencies do ... that they need to do to protect our country and many of those things just should never be discussed in public," he said.
"Operational matters when it comes to national security are never discussed in public and that's the way it should be and what I am charged with is the protection of our country and I am pleased to say that, when it comes to border protection, this government, unlike its predecessor, has a really outstanding record."
MORE:
Any Payments to People Smugglers 'May Have Broken Australian Law'
Exclusive: legal experts say breaches could carry jail terms of up to 20 years, but no prosecution could be undertaken without consent of attorney general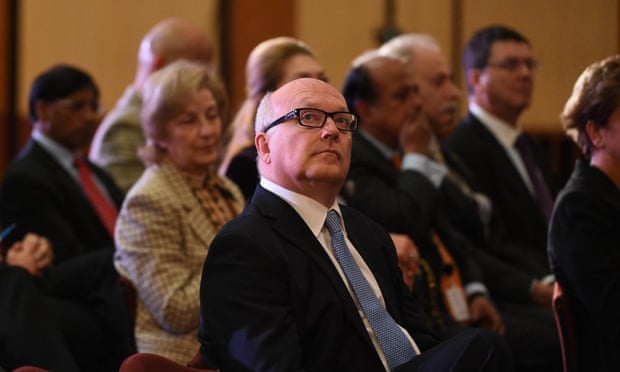 Attorney general George Brandis at the Magna Carta 800th anniversary celebration at Parliament House. Photograph: Mick Tsikas/AAP
Any Australian officials paying people smugglers to take asylum seekers back to Indonesia may have broken Australian laws carrying potential jail terms of up to 20 years and contravened international law, judicial experts say.
But any domestic investigation of legal breaches would have to be authorised by the government, which is stonewalling all discussion of the explosive claims, refusing to confirm or deny allegations that $30,000 was paid to six people smugglers to return asylum seekers to Indonesia in May.
Phillip Boulten SC, a leading Sydney barrister, and Nicholas Cowdery, a former director of public prosecutions in New South Wales, told Guardian Australia that an Australian paying people smugglers would likely be in breach of the provisions of the Criminal Code outlawing people smuggling, or assisting people-smuggling. But both pointed to the fact that the government itself would have to initiate and investigate any charges.
"On the face of it someone who pays thousands of dollars to an Indonesian mariner to take refugees back to Indonesia so as to breach Indonesian laws of entry may be breaching the Criminal Code," Boulten said – including section 73(1), which makes people smuggling an offence, 73(3) dealing with aggravated people smuggling or 73.3A (supporting the offence of people smuggling).
But no such prosecution could be undertaken without the consent of the attorney general, George Brandis, Boulten said, and it could be possible for any person who paid smugglers to use as a defence the fact that they were acting to uphold a separate Australian law.
Cowdery agreed the payments appeared to breach the Criminal Code, but also pointed out the question of who would gather the evidence, given the Australian federal police work with customs on the vessels intercepting people smugglers.
The Australian Greens have written to the AFP asking them to investigate if any payments have been made to crews of boats carrying asylum seekers and if so what laws have been violated.
"Paying cash bribes to boat crews amounts to people trafficking. The government does not have a mandate to break the law or a blank cheque to allow handing over wads of cash in the middle of the ocean," Greens senator Sarah Hanson Young said.
The Coalition is under intense pressure to confirm or deny the claims that on 31 May six people smugglers were paid US$5,000 each to turn a boat containing 65 asylum seekers back to Indonesia, but consistently refuses to speak about "on water" or "operational" matters.
"I can be asked all sorts of questions in all sorts of ways, but the only question that matters is: is this government prepared to do what's necessary to keep the boats stopped? The answer is yes," the prime minister, Tony Abbott, has said when pressed to answer the claims, made by asylum seekers on board the boat to both Indonesian and UN officials.
During question time on Monday ministers repeatedly refused to comment on the issue on the grounds that they did not talk about "intelligence, security and operational matters."
Abbott added a further grounds for his refusal to comment – that "this government does not feel the need to broadcast our intentions and tactics to our enemies … does not feel the need to big note ourselves to our enemies."
Last week foreign minister Julie Bishop and immigration minister Peter Dutton refused to repeat their earlier firm denials that any payments had been made.
Asked why she had previously commented on operational matters, Bishop repeated that "this matter is now going to intelligence, operational and security matters, and in accordance with longstanding practice on both sides of the house I will not comment on it."
In the Senate, attorney general George Brandis responded with a slightly different form of words, saying the government had "taken the necessary measures to succeed [in stopping the boats] where you have failed, and has at all times complied with the law."
Abbott said Labor had enriched people smugglers by "half a billion dollars" with its failure to stop the boats.
The Labour party has asked the auditor general to investigate whether public money was used appropriately in the payments.
Federal law requires ministerial or cabinet oversight of expenditure, although a report in News Corp papers on Monday quoted a "senior source" as saying the payments had been made by an Australian Secret Intelligence Agency officer, in which case any such payments may have been approved by the Asis director general.
The Greens will also try to force the government to produce documents in the Senate – a move routinely ignored by governments.
International law expert Prof Don Rothwell has said paying people smugglers is also likely to contravene international law, particularly the 200 protocol to prevent people smuggling.
"This is what we cite to back interceptions at sea," Rothwell told Guardian Australia. A complaint could only be lodged by Indonesia.
Madeline Gleeson, of the Kaldor Centre for Refugee Law, said: "If a state were to give money to smugglers and instruct them where to take people, it is possible that the state itself could be engaged in, or an accomplice to, a people smuggling operation. Whether or not such a payment would amount to a criminal offence would depend on the particular facts of the case.
"At the very least, though, it would be inconsistent with the general duty to prevent and combat people smuggling, which Australia has committed itself to as a state party to the UN Convention against Transnational Organized Crime and Protocol against the Smuggling of Migrants by Land, Sea and Air."
Over the weekend, the Indonesian foreign minister, Retno Marsudi, ordered an explanation from the Australian ambassador, Paul Grigson, about the allegations and Jakarta launched its own investigation into the facts.
On Monday, Bishop hit back, telling the Australian newspaper: "I look forward to hearing the full *results of Indonesia's investigation of the people-smuggling crimes committed in Indonesia, including any breaches of passport and visa laws, and establishing whether the captains and crews of these boats are part of people-smuggling syndicates or are paid by them.
"The best way for Indonesia to resolve any concerns it has about Operation Sovereign Borders is for Indonesia to enforce sovereignty over its borders."
Former Labor foreign minister Bob Carr told Guardian Australia Bishop's rebuke would "inflame tensions" and jeopardise cooperation between Australia and Indonesia.

Australia Bribery to Smugglers