Crying Passengers on Virgin Flight are Forced to Adopt Brace Position as Hero Pilot Lands Boeing 747 with Faulty Wheels at Gatwick after Circling Airport for Several Hours


Route: The jet was heading across the Atlantic when it turned back over Devon, left, and circled Gatwick several times
Plane turned round after take-off and made dramatic landing at 3.45pm GMT
Boeing 747's starboard landing gear was stuck and refused to drop downJet originally bound for Las Vegas circled London for several hoursEmergency services at the scene and passengers will be evacuated

Passengers on board a transatlantic flight were in tears after they were forced to adopt the brace position when their plane landed at Gatwick without its full set of landing gear down.
The Virgin Atlantic Boeing 747 with up to 400 people on board was meant to go to Las Vegas but was forced to return to London after developing a technical fault shortly after take-off.For several hours the jumbo jet circled the airport and made several low-altitude passes so engineers could inspect the landing gear problem, leaving some passengers distraught.Passenger Dan Crane, 24, from Bromsgrove, Worcestershire, said the mood before the landing was 'anxious'.
He said:
'A lot were worried, some crying. They said it was an emergency landing and we had to brace on impact.'
Back on the ground: This is the Virgin Atlantic jet during its risky landing at Gatwick this afternoon


Zoom: The pilot managed to land the jet with hundreds on board without all the landing gear in place


Safe: Emergency services were on standby for the landing and surrounded the plane on the runway



Emergency landing: A Virgin Atlantic flight from Gatwick to Las Vegas is back on the ground after its pilot landed it with only three-quarters of its landing gear down


Close up: This image shows how three-quarters of the landing gear is down - but one set of wheels on the starboard wing are not fully down
The jet appeared to be flying with only three quarters of its landing gear down after a set of wheels on the starboard wing refused to drop, but the pilot still managed to land it safely.
The plane had to turn back towards London over the Devon coast less than 30 minutes after taking off for America at just before midday today.
The jet landed at Gatwick at 3.45pm today and is stood on the runway surrounded by the emergency services.
Passengers on board were asked to adopt the brace position as the plane came in to land.
Mike Kaufman, who was on the plane, said it would go down as one of the 'greatest emergencies in history'.
He said:
'When we landed you can imagine the relief.
'We were told the plane had a hydraulic problem but were not told that it was the wheels.
'We were told about the brace position around two hours before we landed and ran through it several times before we landed. The crew were calm and that made us calm.
'The landing was smoother than others I've had. It was probably less dramatic on board than it was watching it on TV.
'It is going to go down as one of the greatest emergency landings in history'.
Newly-wed website user Alexia posted a picture of her and her husband earlier today as they went to board the flight, next to the message: 'We are on our way.'
But she later tweeted:
'Yup, that's my plane on the BBC News right now! #vegas #v043 will I ever get to Vegas??
After the plane landed, she wrote:
'Despite what we've just been through, we actually would quite like to get on another plane #VS43
'Biggest round of applause I've ever heard for a pilot landing. He's kept us informed the whole time of everything #VS43'
Other passengers also took to Twitter after touching down to thank the flight crew.
Kelly Coates tweeted:
'#VS43 currently on board the Virgin Atlantic Flight VS43. Massive thank you to all of the crew for keeping everyone calm and safe ??'
Fate Swan wrote:
'@virginatlantic the cabin crew and the pilot have been absolutely amazing and have been keeping us all calm and informed #VS43'
Another posted:
'Top marks to Dave the pilot and all the excellent Virgin cabin crew for bringing us back to Earth safe and sound. #vs43'.
VIR43E circling over Newhaven with landing gear issues



Fault: This picture taken moments before the Gatwick landing shows how part of the landing gear had not deployed


Tributes: Passengers said that the crew on board were calm which made them calm


Trouble: This Virgin Atlantic flight from Gatwick to Las Vegashad to return to London after developing a fault
A Gatwick Airport spokesman said:
'Virgin Atlantic flight VS043 has landed safely after returning to Gatwick due to a technical fault. Following the emergency landing, passengers have disembarked the aircraft via stairs. At this time, only minor injuries have been reported.
'The runway has been closed until the aircraft can be removed from the runway and based on current predictions it is not expected to reopen until at least 18.00. Currently no flights are departing Gatwick and inbound flights are being diverted to other airports. We advise passengers to check with their airlines on the status of their flight. Updates will also be posted on the Gatwick website and on Twitter.'
A Virgin Atlantic spokesman said: 'We can confirm that flight VS43 has landed safely back at Gatwick. Our priority now is to look after our passengers and crew'.
Before it landed the plane made at least one low-level pass over the London Gatwick so engineers could observe the problem.
Others who saw the jet circling around the airport said the pilot was 'tipping the wings' to try to use gravity to drop down the final part of the landing gear.
Ambulances and fire-and-rescue crews had been on standby as the plane circled the airport in the hours after it took off for the United States.
Before the successful landing, Virgin announced that the plane would be carrying out a 'non-standard landing procedure' at Gatwick airport =
A Gatwick Airport spokesman said: 'We can confirm that Virgin Atlantic flight VS043 which departed Gatwick Airport at around 11.45am is returning to Gatwick after the aircraft developed a technical fault.
'In line with standard procedure, emergency services are on standby at the airport purely as a precaution.'
A dramatic photograph showed the jumbo jet landing at Gatwick with the right-side wing landing gear not deployed.
In November 1997 a Virgin Atlantic captain Tim Barnby won praise for safely landing a Virgin Atlantic Airbus plane at Heathrow after a landing-gear problem.
The plane, flying in from Los Angeles carrying 98 passengers and 16 crew, managed to touch down using three instead of four sets of landing gear.
Nine passengers were treated for minor injuries. Virgin said it had been 'fantastic flying'.

Long wait: The plane was circling several hours as it burned off the fuel before the emergency landing

Virgin flight stranded in air
Quote:
Virgin Confirms Safe Landing

The airline has now confirmed the flight has landed safely.
A spokeswoman said: "Virgin Atlantic can confirm that flight VS43 has landed safely back at Gatwick.
"Our priority now is to look after our passengers and crew."
Praise for Pilot

There's been universal praise for the pilot who brought the passenger plane down safely.
Following the recent Asian air tragedies there will be relief all round this flight didn't go the same way.
Despite apparently faulty landing gear, the pilot landed VS43 smoothly by all accounts.
Round of Applause for Pilot

The pilot had a round of applause from passengers when the plane landed safely.
One passenger, Alexia from Walthamstow, tweeted that it was the biggest she'd heard.
She added that she never thought she would have to use the brace position.
Quote:
aileen cooper @lavenderbluewed;
Well done #VirginAtlantic VS43, shows how highly trained you guys are.
'Lots of Worry, Some Crying'

Describing the mood on the plane as it was circling, passenger Dan Crane, 24, from Bromsgrove, Worcestershire, said it was "anxious, a lot were worried, some crying.
"The mood was quiet and (we were) just waiting for the captain's next announcement."
Mr Crane, who is with family and friends, said the crew kept everyone informed, adding:
"They said it was an emergency landing and we had to brace on impact."
'Queue for the Toilets When We Landed'

Describing the moment passengers were told what was going on passenger Mike Kaufman said: "It was about 30 mins to one hour into the flight and we were told we had to go back to Gatwick.
"They said it was a hydraulic problem - not particularly the wheels. I was hoping that wouldn't be the case.
"The crew and pilot were so professional. All passengers kept calm because they were calm.
"There was a bit of a queue for toilets for a while because we had been sitting in our seats for a while."
Mike described the moment the plane prepared to finally land.
He said:
"We we were given a safety briefing two hours before and then reminded shortly before.
"As we came into land you feel nervous. We just wanted it to be over and done with. We thought it was going to be fine but you're just never sure.
"We talked about going on a rollercoaster when we got to Vegas - that's not going to happen now. Thank god the crew and pilot knew what they were doing."
Passengers 'in Safe Hands'
Passenger Mike Kaufman told Sky News how the passengers were "in safe hands" throughout the journey.
He said they had to adopt the brace position as they came into land.
"The landing was smoother than others we've had," Mr Kaufman told reporters.
"It did slow down a bit more than normal.
"The whole crew and pilot remained very calm. We didn't realise there had been such a fuss because it was such a calm experience."
Ambulances Not Needed

Fortunately the ambulance service was not needed in the end.
But if they had been they would have been in good time, as they prepared for the unplanned landing at Gatwick.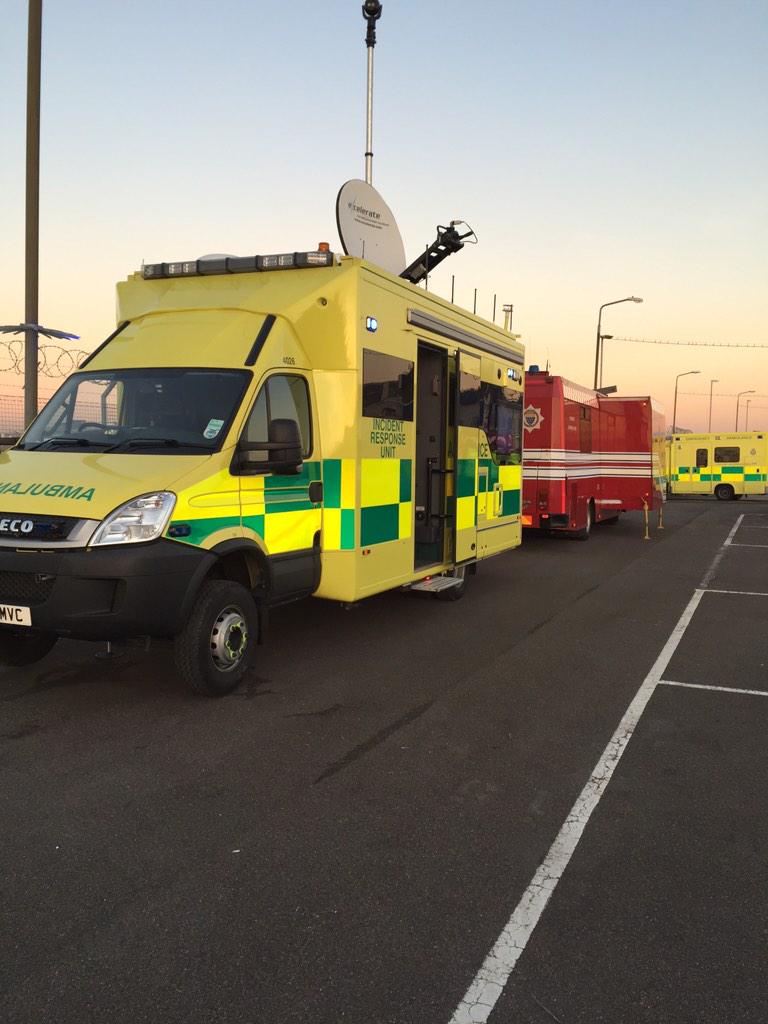 Both Gatwick and Ashford teams in attendance at Gatwick airport -Virgin plane incident. No medical emergencies to report
The passenger flight successfully executed a non-standard landing procedure after circling for hours.
Emergency services were on hand 'as a precaution'.
Videos


Safe Landing
Incredible Footage of Virgin Plane Emergency Landing