Genoa Bridge Collapse Dozens Feared Dead in Apocalyptic Scene

CBC News, 14 AUG 2018.

Rescuers work gather at the site of the Morandi motorway bridge collapse in Genoa, Italy, this morning. At least 35 people are dead and there are fears that the toll will climb higher. (Valery Hache/AFP/Getty Images)
A Bridge Becomes a Tomb


It took almost four years to build the Morandi Bridge in Genoa, Italy, but only seconds for it to crumble.
This morning, a huge section of the kilometre-long span gave way during a violent thunderstorm, sending dozens of cars and trucks tumbling into factories, stores and homes some 50 metres below.
At least 35 people are dead, according to the latest report from the country's ANSA news agency, while five injured survivors have been pulled from the rubble and are in hospital in serious condition.
Aerial footage shows a several-hundred-metre-long gap in the bridge, with mountainous chunks of asphalt, concrete and steel support beams sitting atop the rubble of buildings and crushed vehicles.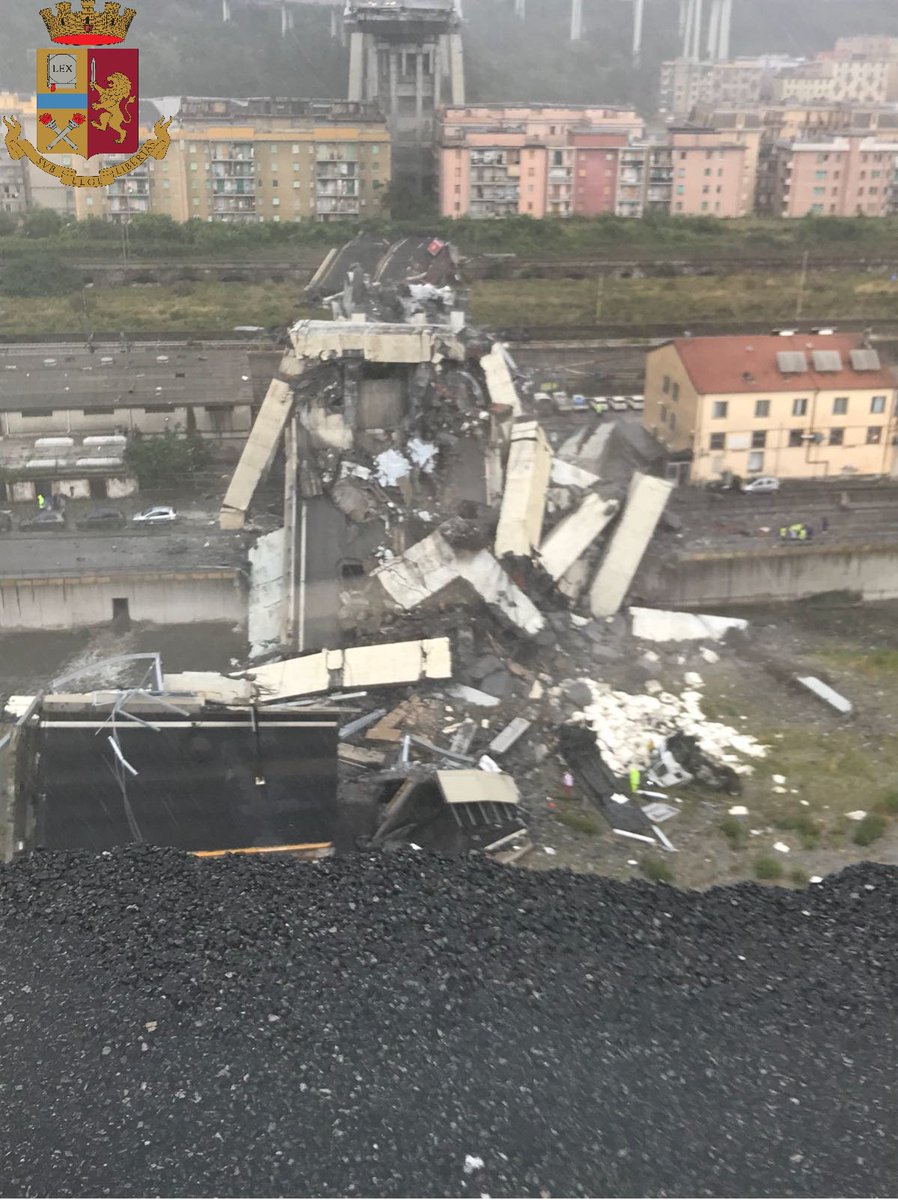 Eyewitnesses report that a bolt of lightning struck the bridge just before it failed, and the heavy rains were accompanied by gusts of wind up to 65 km/h.


Speculation about the cause of the collapse is already focused on maintenance issues surrounding the aging span, part of the A10 highway, which opened to traffic in 1967.
"Those responsible will have to pay," Italian transport minister Danilo Toninelli told the national broadcaster.
Major repairs were carried out on the bridge, which spans a railway and a river in central Genoa, in 2016. Reuters reports that Autostrade, the private firm that runs the toll road, was working to shore up its foundation at the time of the collapse.
A spokesman for Autostrade said that the span was well monitored and supervised and that there was "no reason to consider the bridge was dangerous."
Others are seizing upon the tragedy to make a political point.
Matteo Salvini, Italy's interior minister and leader of the anti-EU Northern League, blamed the disaster on bean counters in Brussels.
"We should ask ourselves whether respecting these [budget] limits is more important than the safety of Italian citizens. Obviously for me it is not," he told Italian television.
More than 200 firefighters and rescue workers continue to comb through the rubble looking for more victims and survivors.
Several nearby homes and businesses have been evacuated over fears that the remaining sections of the bridge might also fail.
An abandoned truck sits near the edge of a remaining span of the Morandi motorway bridge in Genoa. (Valery Hache/AFP/Getty Images)



NB: The Bridge was called 'The Bridge of Flowers'



.