Dreamworld Tragic Accident: Four Dead at Australia's Gold Coast Theme Park

Police confirm four people were killed in an accident on one of the park's rides after being 'injured by a conveyor belt'
Guardian UK, 25 October 2016
Four people have died in an accident at Dreamworld theme park on the Gold Coast.
The park initially confirmed three deaths in a statement on Tuesday afternoon. Police subsequently raised the death toll to four.
In a statement they said police were called to the site about 2.20pm following "reports that a number of people had been injured by a conveyor belt".
It is believed the accident happened on the Thunder River Rapids ride.
Associated Press reported the people killed were two men and two women.
Quote:

Statement;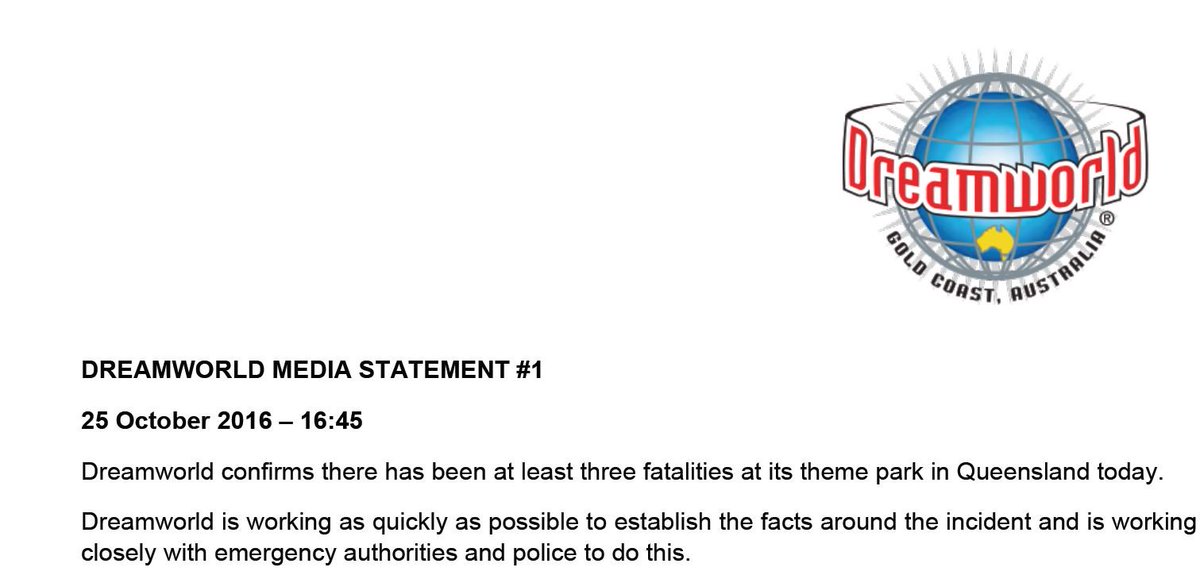 Local media reported four ambulances were on the scene and that one person was unresponsive and being given CPR.
A spokeswoman from Ambulance Queensland said paramedics were responding to a "multi-casualty event" at Dreamworld and that the situation was "unfolding."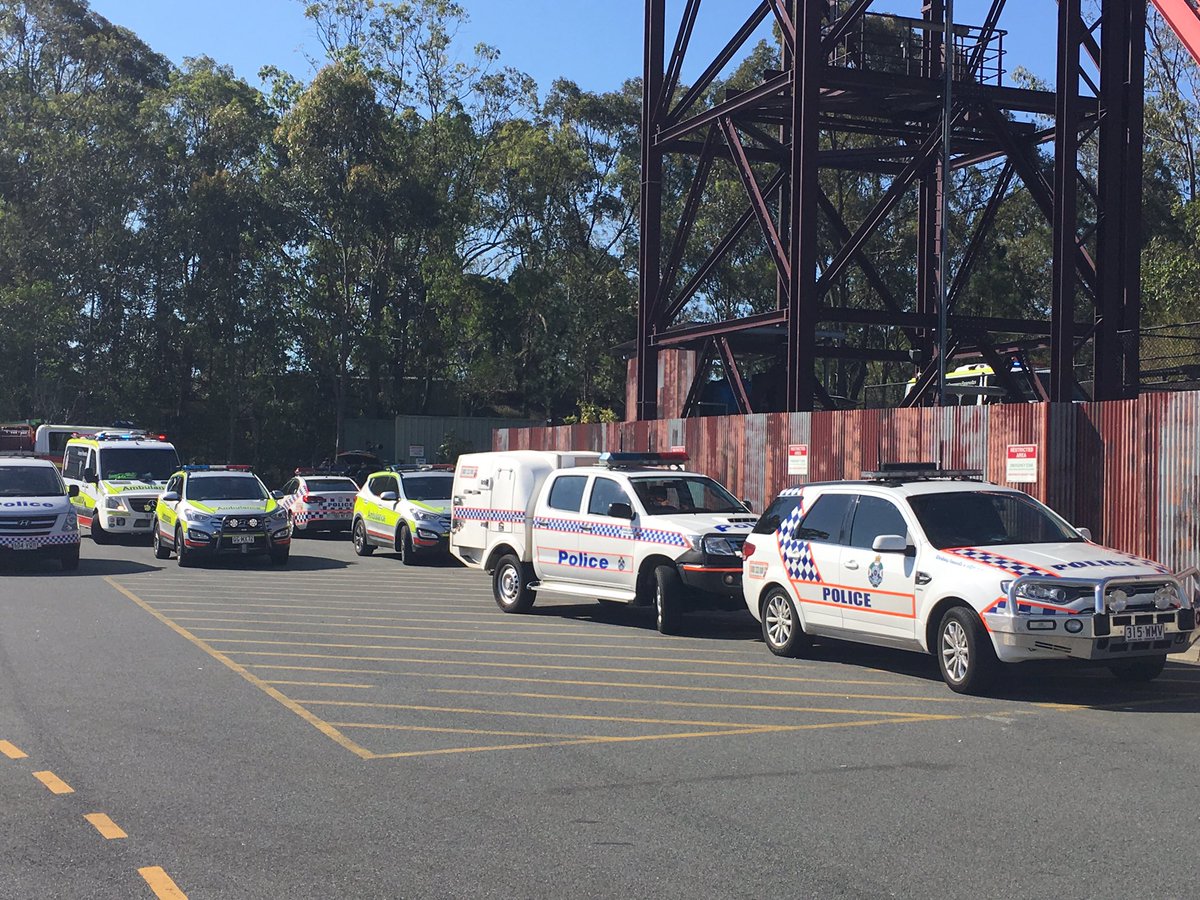 US Olympics 1500m gold medallist Matthew Centrowitz was at the park at the time.
Quote:

Matthew Centrowitz

Dude! Just got off a ride 15 mins ago that has 1 person seriously injured & 2 others trapped


Quote:

'It is one of the most tame rides here'

Warren Murray


At Dreamworld about 4.30pm the parks main rides including the Tower of Terror, waterslides and flagship SideWinder visible from the M1 motorway stood silent. The giant saw blade promoting the Buzz Saw ride still idling in circles was the only sign of activity on the rides themselves.

A contingent of fire and rescue trucks, police and ambulance vehicles occupied parking bays north of the ticketing booths while news helicopters hovered.

News crews and police assembled on the forecourt immediately outside the ticketing booths and public entrance where Dreamworld management, police and ambulance officials gave a press conference.

Lisa Walker, a New Zealander visiting from New Guinea where she works as a police officer, was one of the patrons trickling out and said she had been on the Thunder River Rapids ride only 10 or 15 minutes before the accident. She went back to the area after hearing commotion and sirens.

"We were around the area afterwards and saw people coming out very distressed. We saw a lady and a man run back who must have had family in there."

A distressed young girl was being comforted by police, Walker said.
Referring to the Thunder River Rapids Ride, Walker said: "It is one of the most tame rides here and certainly one for the families."

Walker said her police background left her thinking that "I thought I could have helped" had she still been there when it happened.

Lily Smitheman, on holiday from New Zealand, said they had been on their way out of the park when the accident happened and saw "a whole bunch of people coming out at the same time".
"Everyone was getting a lot of phone calls – I got a call from Mum asking if I was OK".